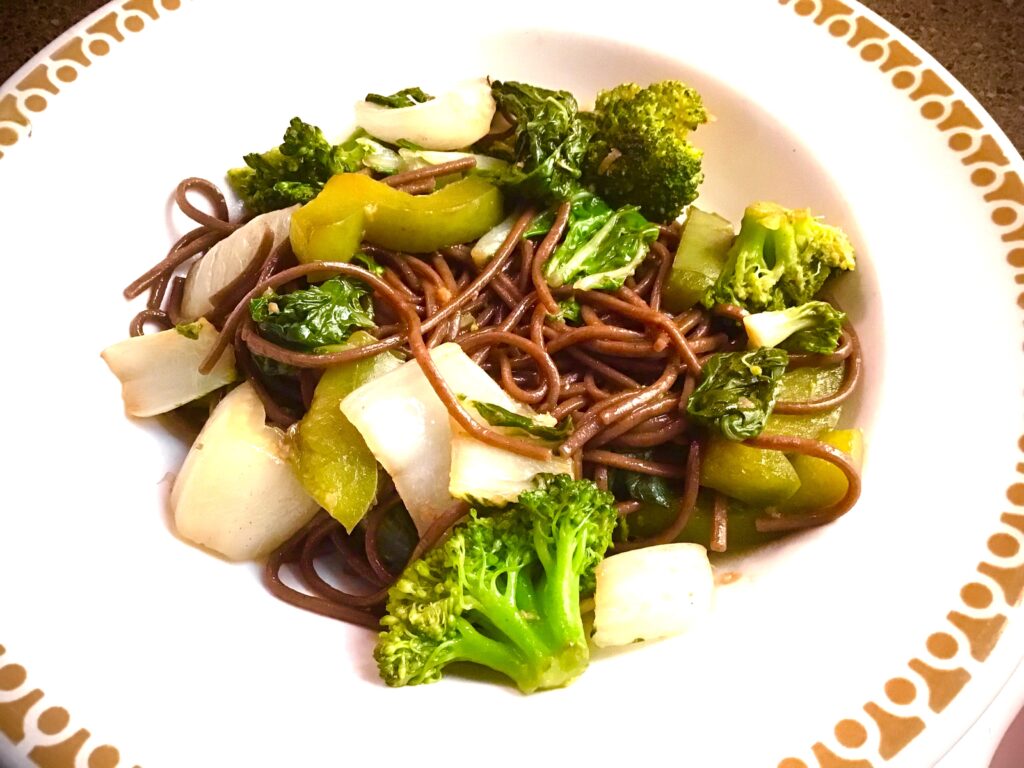 This easy meal is ready in minutes. Vary the vegetables depending on what is in season and available. Makes a healthy, delicious meal!
Serves 4.
Ingredients:
2 Tbsp olive oil
2 c broccoli florets
1 medium bell pepper, cut in strips
6 c bok choy, chopped
1 inch ginger root, grated
1-2 cloves garlic, crushed
1/4 tsp salt
1/8 tsp pepper
4 c water
1 Tbsp vegetarian chicken-style broth mix
6 oz buckwheat noodles
1 Tbsp soy sauce
1 tsp toasted sesame seed oil
Directions:
In a large heavy pot or wok over high heat, warm the olive oil. Add broccoli and stir-fry 3 minutes.
Add bell pepper strips and bok choy. Stir-fry another 4 minutes.
Stir in the ginger, garlic, salt and pepper. Saute one minute.
Remove pot from flame and set aside.
In a medium pot, place the water. Mix in the broth mix and bring to a boil on high heat.
Stir in the noodles; bring back to boil. Boil 4 minutes, or according to package directions.
Drain noodles and add them to pot of stir-fried vegetables. Toss well and add the soy sauce and sesame oil. Toss again until well distributed.
Serve hot.