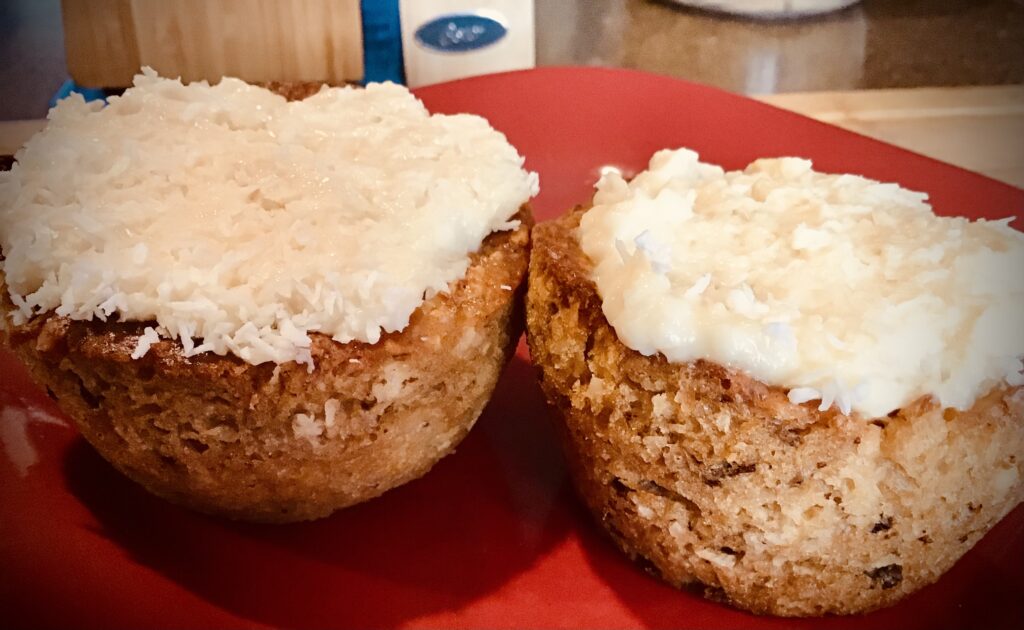 Makes 6 medium-large cupcakes.
Ingredients:
Batter:
1 egg
1 Tbsp softened butter
1/2 tsp vanilla
1 c canned crushed pineapple with juice
1/2 c brown sugar
1 c all purpose flour
1 tsp baking soda
1/2 c (rounded) walnuts, chopped
1/2 c (rounded) unsweetened flaked dry coconut
Frosting:
4 oz cream cheese, softened
1 Tbsp honey
2 Tbsp unsweetened flaked dry coconut
Directions:
Batter and Baking:
Preheat oven to 350 degrees F and butter a muffin pan with 6 medium large wells.
In a medium bowl, beat the egg, softened butter, and vanilla.
Add pineapple, brown sugar, flour, and baking soda. Beat together with a wooden spoon until well-blended.
Fold in the nuts and coconut.
Spoon batter into muffin pan, filling wells nearly to the top.
Bake 15 minutes, or until tops are firm and a toothpick inserted in the center of a cupcake comes out clean.
Cool cupcakes in pan 5 minutes before transferring to a wire rack to cool completely.
Frosting:
In a small bowl, beat together the cream cheese and honey until smooth and creamy.
Divide evenly among the cupcakes and spread on tops.
Sprinkle with coconut. Press coconut in with the back of a spoon and serve.