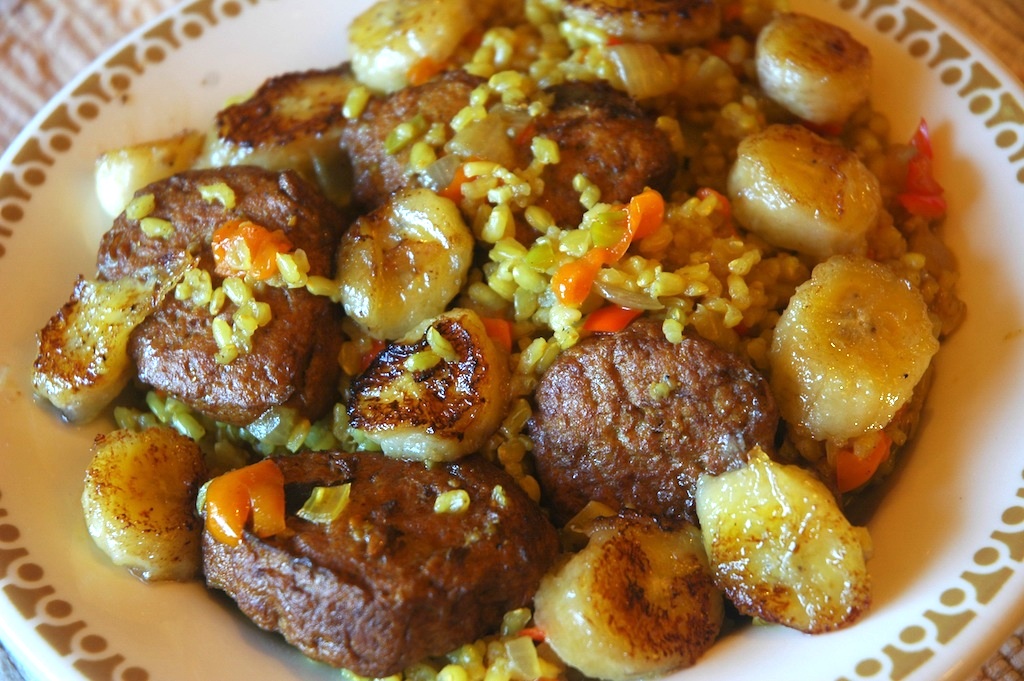 Joffof is a West African classic dish that combines spicy rice with fried bananas or plantains. It is often served with chicken, and in this vegetarian version, I use Worthington FriChik for an authentic flavor.
Serves 4.
Ingredients:
1 c brown rice (short or long grain)
2 Tbsp vegetable oil
1 small onion, chopped
1 Scotch bonnet pepper, seeded, minced
1/2 large red bell pepper, chopped
1 clove garlic, minced
1/2 c fresh or canned tomatoes, chopped
2 c water
1 tsp dry thyme leaves
1 tsp curry powder
1/2 tsp ground coriander seed
1/4 tsp onion powder
1 bay leaf
1/4 tsp salt (or to taste)
1 (12.5 oz) can Worthington FriChik Original
1 Tbsp butter or margarine
2 firm bananas (or 1 ripe plantain), cut in 1/3″ slices
Directions:
Rinse rice well. Drain for at least 10 minutes.
In a heavy 2-quart or larger pot on a medium low setting, heat 1 tablespoon of the oil. Add rice and sauté for 3 minutes.
Add remaining tablespoon of oil, onion, Scotch bonnet pepper, red bell pepper, and garlic. Saute 3 minutes more.
Stir in tomatoes, water, thyme, curry powder, coriander seed, onion powder, bay leaf, salt, and FriChik with its gravy. Bring to boil and stir. Cover tightly, reduce heat to lowest setting, and simmer 35 minutes.
While the Jollof is cooking, melt the butter in a skillet and fry the banana slices about 2 minutes on each side, or until golden.Remove skillet from burner and place bananas in a holding dish to avoid over-cooking.
Remove bay leaf. Place Jollof mixture in a serving bowl. Add banana slices to the sides and/or top of the dish. Serve hot.
*We have used Worthington FriChik for years and we love it! Recently Atlantic Natural Foods sent me samples of their latest products, and I have used them in this recipe.