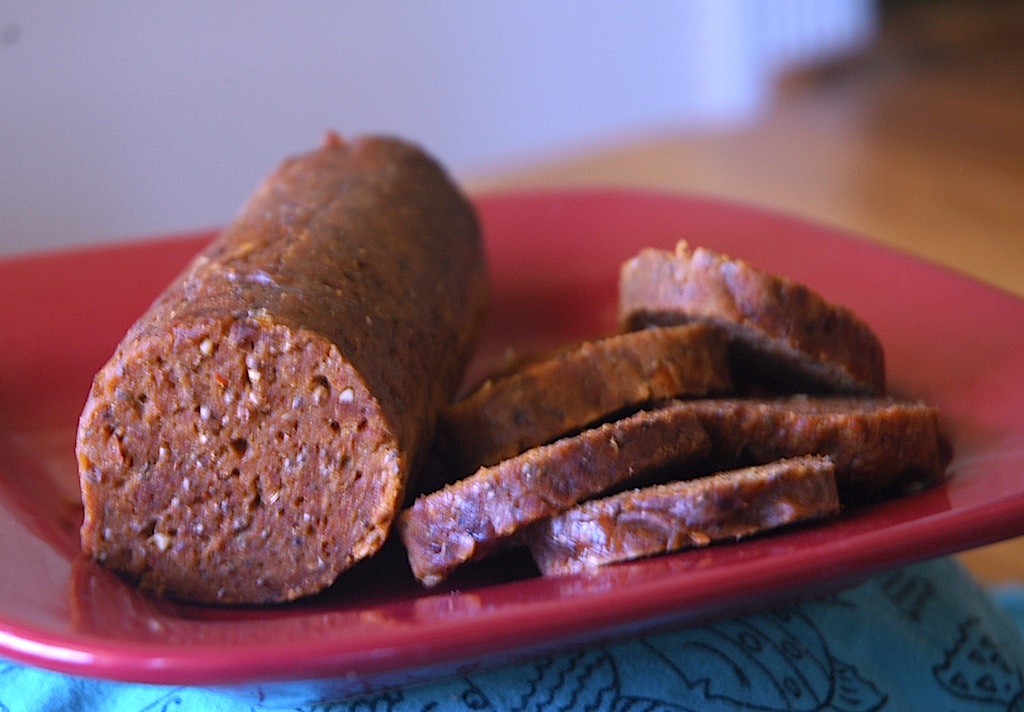 This is a vegan protein source that may be used on pizzas, in casseroles, or on a snack tray with vegetables and crackers.
Makes 2 (8″) pepperoni logs.
Ingredients:
2 Tbsp chia seeds
1 1/2 c water
1/2 c refried beans (or mashed beans or black-eyed peas)
2/3 c whole wheat flour
1 c gluten flour (vital wheat gluten)
1/4 c nutritional yeast flakes
2 Tbsp paprika
1 tsp marjoram
1 tsp garlic flakes
1 tsp fennel seed
1 tsp coarse smoked pepper
1 tsp red pepper flakes
1 tsp salt
1 Tbsp vegetable oil
Directions:
In a medium bowl, mix the chia seeds with the water and allow to stand 10 minutes, or until thickened. Add beans; stir to blend. Set aside.
Preheat oven to 350 degrees F.
In a large bowl, whisk together the whole wheat flour, gluten flour, nutritional yeast, paprika, marjoram, garlic flakes, fennel seeds, coarse pepper, red pepper flakes and salt.
Stir the wet ingredients (but not the oil) into the dry ingredients. Knead in bowl until very well combined. Turn out on clean surface and knead one minute. Break the dough into 2 parts. Roll each dough ball into a smooth 8″ log.
Place each log on a sheet of heavy duty aluminum foil and brush each log on all surfaces with the vegetable oil. Roll the foil around the log snugly, and twist or fold the ends tightly. Place both logs in a baking dish, seam sides down. Cover the dish with lid or foil.
Bake 40 minutes. Turn oven off but leave seitan in the oven for one hour. Remove from oven and cool half-hour before slicing or dicing the seitan..Use in your favorite recipes such as Vegetarian Pepperoni Hash. Tightly wrap and store in refrigerator or freezer.