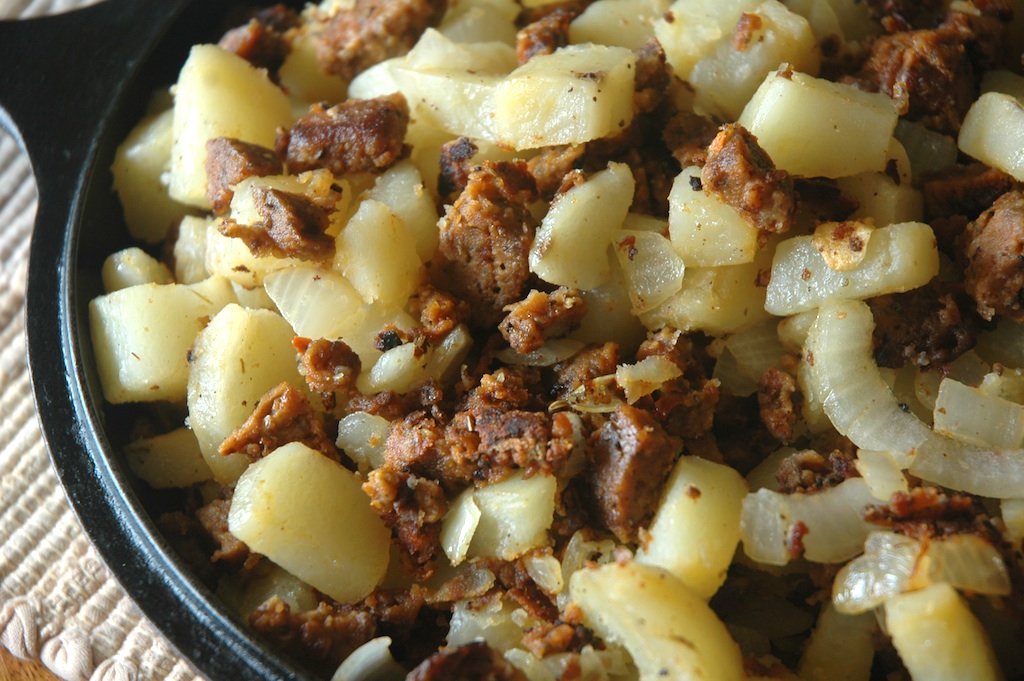 Use my recipe for Pepperoni Seitan or a store-bought variety to make this hearty vegetarian treat. It makes a stick-to-your-ribs breakfast or lunch! Serves 4-5.
Ingredients:
4 large potatoes, peeled, cut in 3/4 inch dice
1/4 c olive oil (divided use)
2 c vegetarian pepperoni, cut in 1/2 inch dice
1 medium onion, chopped
1 clove garlic, thinly sliced
Directions:
Place diced potatoes in a large heavy pot. Pour in water to cover. Bring to boil on medium, reduce heat and simmer 10 minutes uncovered. Drain and transfer to a bowl to cool. Cool 30 minutes.
In the same heavy pot, heat 2 tablespoons of the oil on medium. Add the pepperoni and brown for 5 minutes.
Add onion and saute 3 minutes.
Add the remaining 2 tablespoons of olive oil, the potatoes and garlic. Cook 6 minutes more, until browned in places and the pepperoni flavors have blended in. Serve hot.