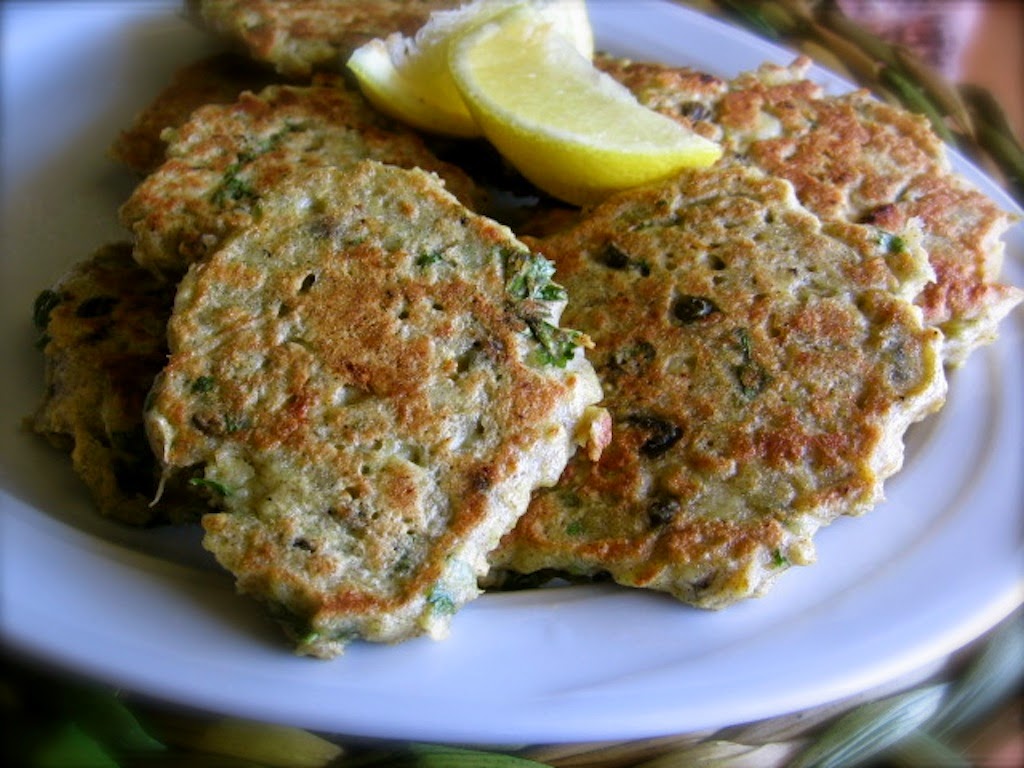 Gluten Shreds, by Creative Foods Inc., are textured wheat protein. In this recipe they imitate the texture of fish. Dulse powder is a seaweed product that offers a pleasant seafood flavor.
Makes about 8-9 medium codfish cakes.
Ingredients:
1 medium-large potato
1/2 c light gluten shreds
1/2 c boiling water
2 Tbsp fresh parsley, minced
1 Tbsp capers, minced
1 tsp dulse powder
1/2 tsp dry thyme
1 tsp lemon pepper
2 eggs
1/4 c all purpose flour
1-2 Tbsp olive oil
Directions:
In a small saucepan over high heat, place unpeeled, whole potato in water to cover. Bring to boil. Reduce heat, partially cover, and simmer 30 minutes or until fork tender. Cool enough to handle. Pull peel off and shred potato on a box grater or run it through a food mill to rice it.
Soak gluten shreds for 10 minutes in the boiling water with the parsley, capers, dulse, thyme and lemon pepper.
Beat eggs in a large bowl with a whisk until creamy. Add potatoes, gluten shreds mixture (including soaking liquid), and flour. Blend lightly.
Heat heavy skillet or griddle on medium high. Add oil evenly to coat.
Drop batter by quarter-cups. Use a spoon to flatten and shape into cakes. Cook about 4 minutes or until browned and firm. Turn and cook the other sides about 3 more minutes.
Serve hot with tartar sauce and lemon wedges.