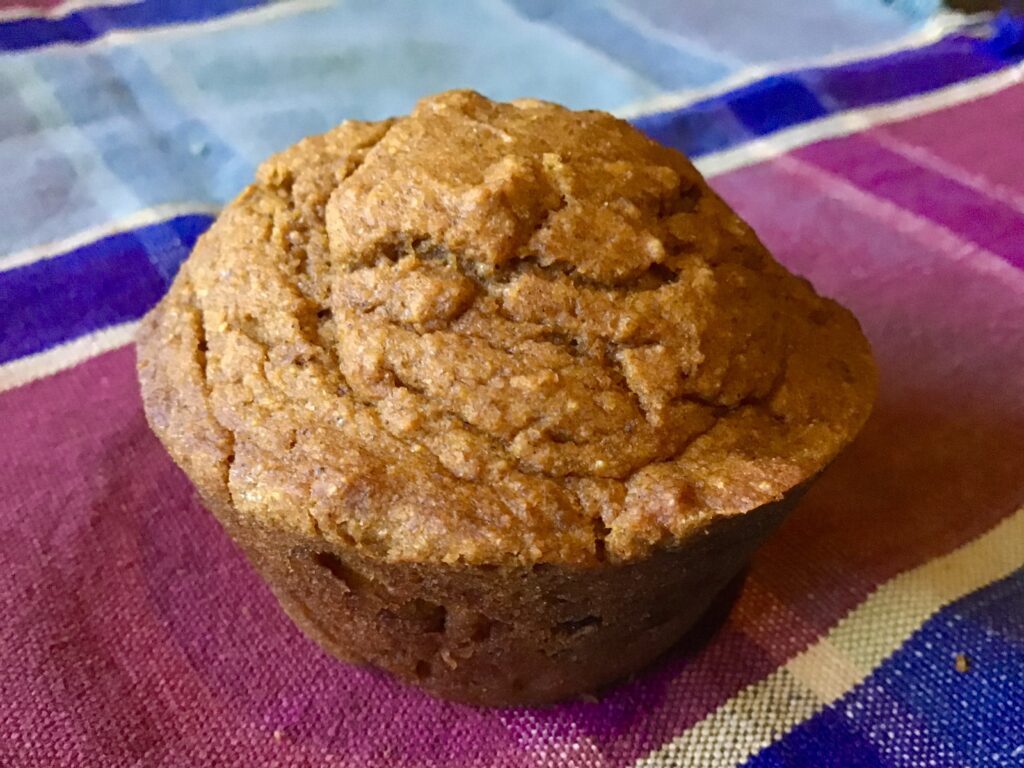 Makes 6-8 medium muffins.
Ingredients:
1 c whole wheat flour
1 Tbsp flax seed meal
1/2 tsp baking soda
1/4 tsp baking powder
3/4 tsp cinnamon
1/8 tsp ginger
1/8 tsp nutmeg
1/8 tsp allspice
pinch cloves
1/4 rounded tsp salt
1 c pureed pumpkin
3 Tbsp olive oil
3 Tbsp honey
1/3 c milk
1 large egg, lightly beaten
1/2 c raisins
Directions:
Preheat oven to 350 degrees F. Grease 6 (1/2 cup) muffin wells or 8 (1/3 cup) muffin wells with butter or vegetable shortening.
In large bowl, whisk whole wheat flour, baking soda, baking powder, salt, cinnamon, ginger, nutmeg, allspice and clove until well blended.
In medium bowl, mix pumpkin, oil, honey, milk, and egg until combined. Add raisins and blend.
Add pumpkin mixture to dry ingredients; stir until dry ingredients are incorporated. Do not over-mix.
Scoop rounded 1/3 cup of batter (for 6 muffins) or rounded 1/4 cup of (for 8 muffins) into each well., Tap muffin tray firmly on counter 2-3 times to level batter.
Bake until toothpick inserted in center of muffin comes out clean (about 18 minutes for smaller muffins and 20 minutes for the larger ones.)
Cool in pan 10 minutes. Run knife around edges; transfer to cooling rack.
For best flavor and texture, cool to room temperature before serving. Store in air-tight container or under cake dome.