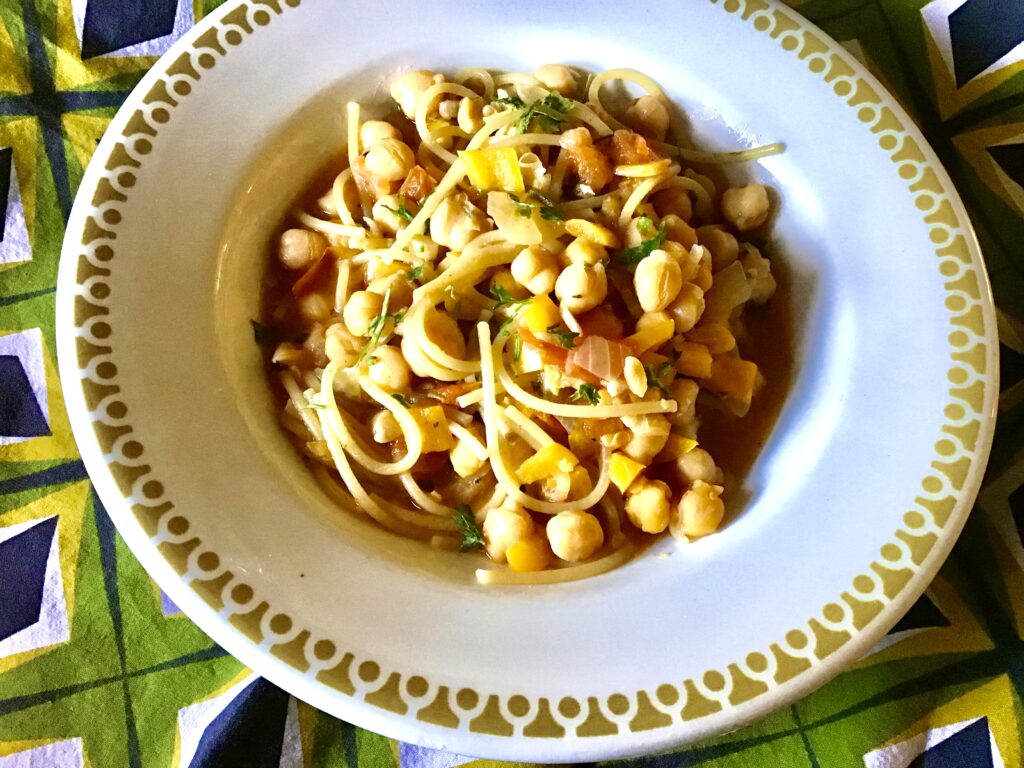 If you have a can of chickpeas, spaghetti noodles, and some staple veggies on hand, this low calorie recipe is for you!
Serves 3.
Ingredients:
1 Tbsp olive oil
1/3 c onions, chopped
1/3 c bell peppers, chopped
2 cloves garlic, minced
1 medium tomato, chopped
1 (15 oz) can chickpeas, rinsed, drained
2 c vegetable broth or water
1 Tbsp parsley, minced
1/2 tsp paprika
1/4 tsp salt (or to taste)
1/8 tsp pepper
4 oz (114 gr) spaghetti noodles, broken in half
Directions:
In a medium large heavy pot over medium heat, warm the olive oil.
Add onions and bell peppers; saute 3 minutes.
Add garlic; saute another 30 seconds.
Stir in the tomatoes, chickpeas, vegetable broth, parsley, paprika, salt and pepper.
Bring to boil on medium heat. Add spaghetti and stir well.
Bring back to boiling; boil 10 minutes or until pasta is tender, stirring often to keep pasta from sticking together.
Serve hot in soup bowls with more parsley sprinkled on top.