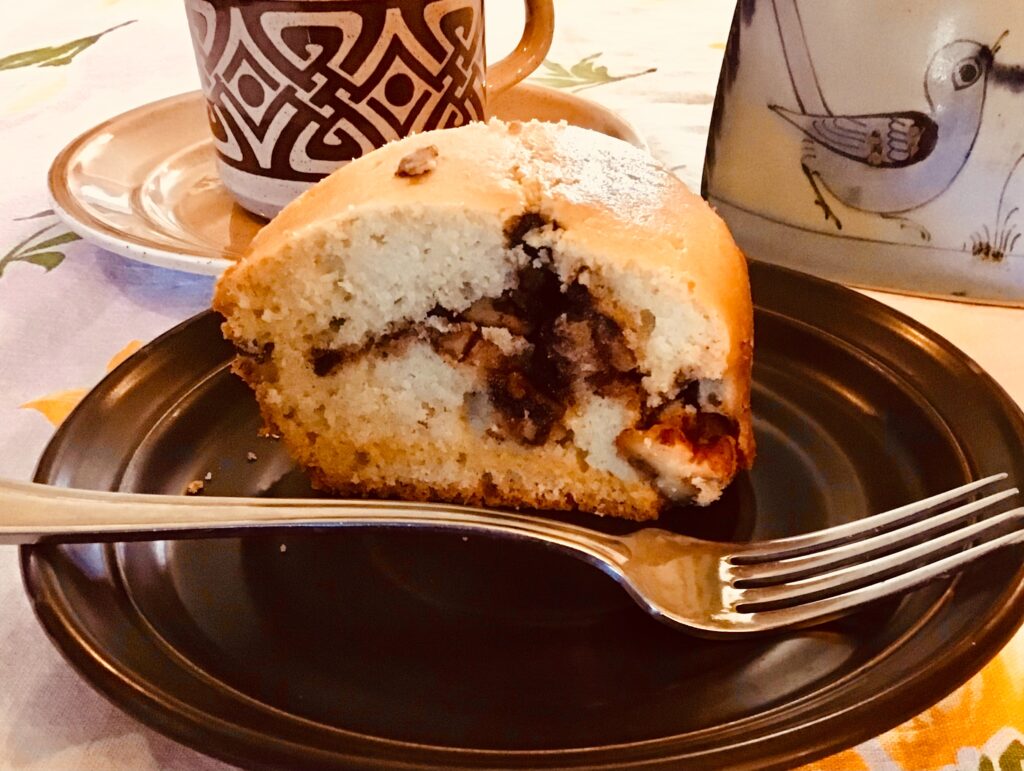 This traditional recipe came to us from friends and family. It is not overly sweet, and the sour cream comes through in its delicate flavor.
Serves 12.
Ingredients:
Filling:
2 Tbsp softened butter
1/3 c brown sugar (packed)
2 tsp cinnamon
1/2-1 c walnuts, chopped
Cake:
1/2 c vegetable shortening
2/3 c sugar
1 tsp vanilla
3 eggs, separated
2 unbleached all purpose flour
1 tsp baking soda
1/2 tsp salt
1 c sour cream
Directions:
Filling:
In a small bowl, using a wooden spoon, cream the butter and brown sugar.
Add cinnamon and walnuts and mix until well-incorporated. (Mixture will be somewhat dry.) Set aside.
Cake, Assembly and Baking:
Preheat oven to 350 degrees F. Butter and flour a tube pan or 11″x 7″x 2″ baking pan.
With an electric mixer, beat the egg whites until stiff but not dry. Move to a holding bowl.
Cream the shortening and sugar.
Add the egg yolks, sour cream and vanilla; beat until smooth.
Sift together the flour, baking soda and salt.
Gradually add flour mixture to the creamed mixture. Beat until smooth, scraping sides and bottom of bowl.
Gently fold the stiff egg whites in by hand until incorporated throughout.
Spoon half batter into prepared pan, smoothing top.
Sprinkle all of filling evenly on top.
Spoon remainder of batter over the filling. Try to cover filling as much as possible.
Bake 45 minutes or until a toothpick inserted in the center comes out clean.
Cool in pan 10 minutes. Run knife around all edges including tube center.
If using tube pan, place plate over top and invert. Then invert again to cake stand or platter. (Cake baked in 11 x 7″ pan may be served directly from pan.)
Cool at least an hour before serving.
Cover and store at room temperature. Leftover pieces may be wrapped in wax paper, placed in a freezer bag, and frozen.
*NOTE: Half of this recipe will fit in a cake layer pan. Use 2 eggs.