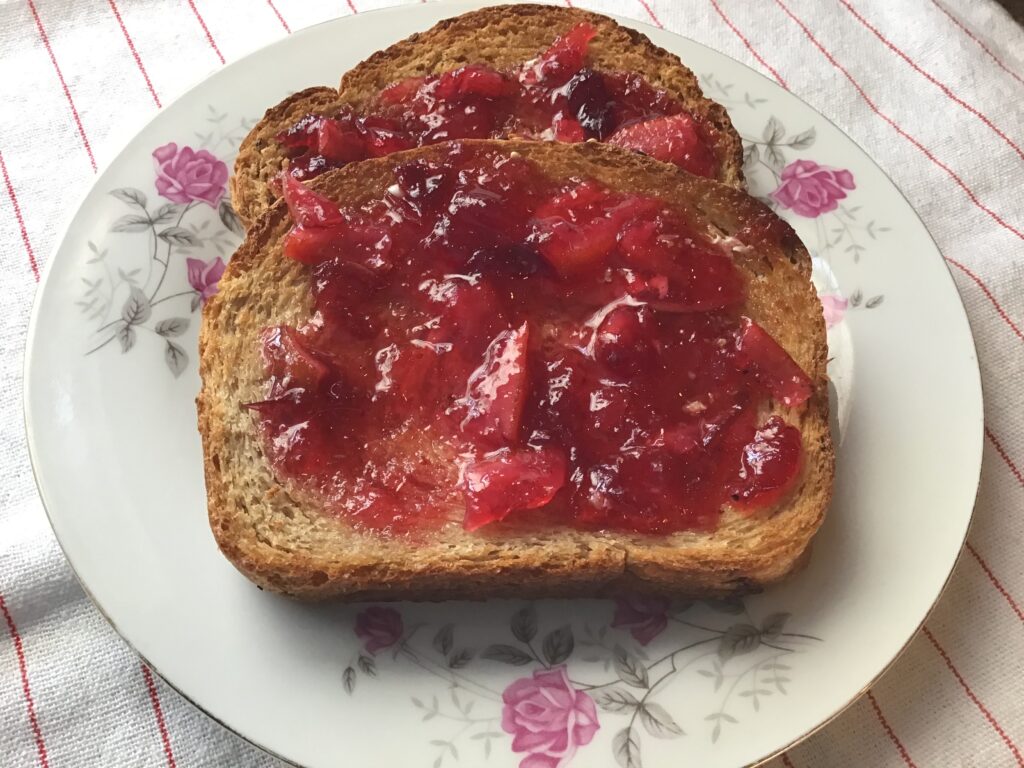 Makes 4 pints.
Ingredients:
3 1/2 c fresh cranberries (about 12-14 oz)
2 oranges
1 lemon
1 lime
1 1/2 c water
1/8 tsp baking soda
6 c sugar
2 oz pectin powder
Directions:
Wash all citrus fruit and cranberries.carefully.
Working in a 13 x 9 x 2′" deep dish or similar, cut each citrus fruit into 6 wedges. Remove seeds. Slice each wedge into thin slivers.
Place citrus (including pulp and liquid) in a medium saucepan. Add water and baking soda. Simmer 20 minutes, stirring often.
Add cranberries, bring back to boiling. Cover and simmer on low heat for 10 minutes.
Stir in the sugar, blending well. Bring to rolling boil on high heat. Boil 1 minute, stirring constantly.
Remove from heat and stir in the pectin. Continue stirring 5 minutes. Cool another 10 minutes.
Into clean pint canning jars, ladle the hot mixture, leaving 1 1/2 inches head space on each jar. Cool completely. Refrigerate and use within 2 months or freeze and defrost for use within a year.