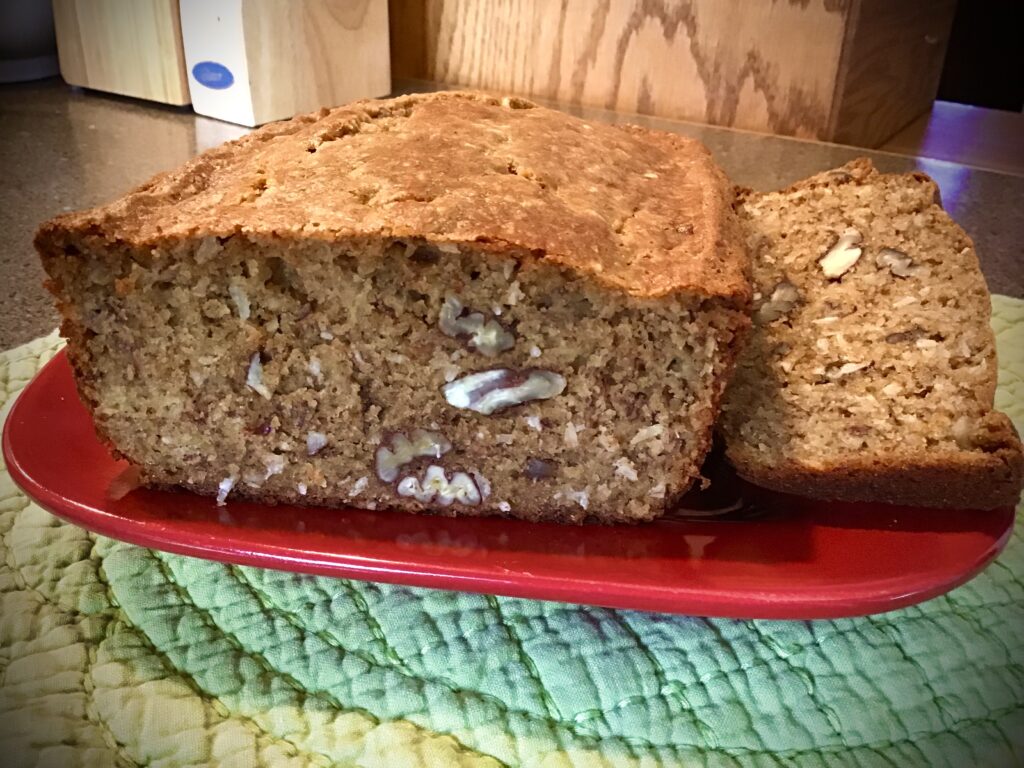 Makes 1 large loaf.
Ingredients:
2 large ripe bananas
1/2 c brown sugar
1 egg
1 c evaporated milk
1/2 tsp vanilla
4 Tbsp melted butter or margarine
1 1/2 c whole wheat flour
1/2 tsp baking soda
1/2 baking powder
1/2 tsp cinnamon
1/2 c shredded dehydrated coconut
1/2 c pecans, chopped
Directions:
Preheat oven to 350 degrees F and butter a 9-inch loaf pan.
In a large bowl, mash the bananas with a fork or pastry blender. With a wooden spoon, cream the bananas and brown sugar.
Beat in the egg, milk, and vanilla until well-blended.
In a medium bowl, whisk together the flour, baking soda, baking powder, and cinnamon. Mix dry ingredients into wet ingredients. Do not over-mix.
Fold in the coconut and pecans.
Spoon mixture evenly into the prepared loaf pan. Bake 50 minutes, or until a toothpick inserted in thickest part comes out moist, but clear of batter.
Allow to stand in pan 10 minutes; then turn out loaf on wire rack to cool before slicing.