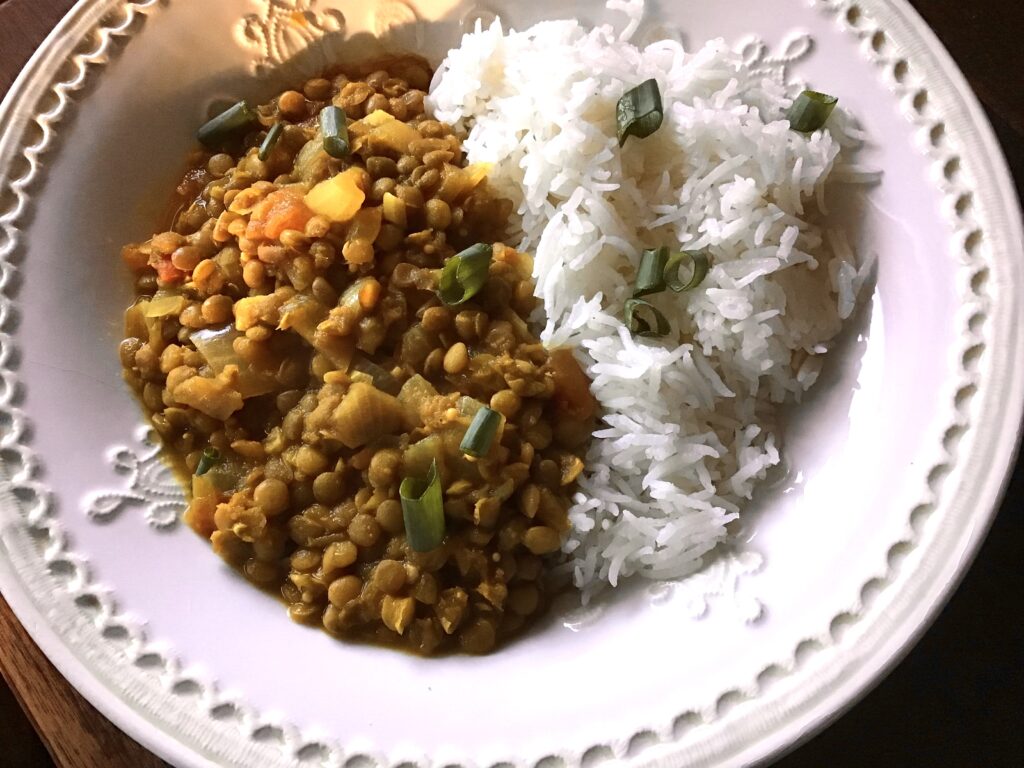 Serves 4.
Ingredients:
1 c dry brown lentils
5 c water
1 tsp turmeric powder
2-3 curry leaves (optional)
1 Tbsp vegetable oil
2 Tbsp butter or ghee
1 medium onion, chopped
2 cloves garlic, minced
2 dry Japanese chilies, crushed (or 1/2 tsp red chili flakes)
1 tsp mustard seeds
1/2 in ginger root, minced or 1/2 tsp ginger powder
1/2 tsp cumin seeds
1 tsp paprika
1 medium tomato, chopped
1 tsp salt
1 tsp sugar
1 tsp lemon zest
1 Tbsp lemon juice
Directions:
Wash and sort the lentils. Place them in a large pot with water, turmeric, and curry leaves. Bring to boil over medium high heat. Reduce flame to low, cover, and boil 35 minutes or until tender.
In a large skillet over low heat, add the oil and butter. Saute the onion 10 minutes or until beginning to brown.
Add garlic, chilies, mustard seeds, ginger, cumin, and paprika; saute 3 minutes.
Add tomatoes; saute 3 more minutes.
Stir the contents of the skillet into the pot of lentils, adding water if needed. Cook on low 5 minutes.
Add salt, sugar, lemon zest and lemon juice. Stir well. Serve hot, garnished with chopped cilantro or sliced green onions. Serve with rice.