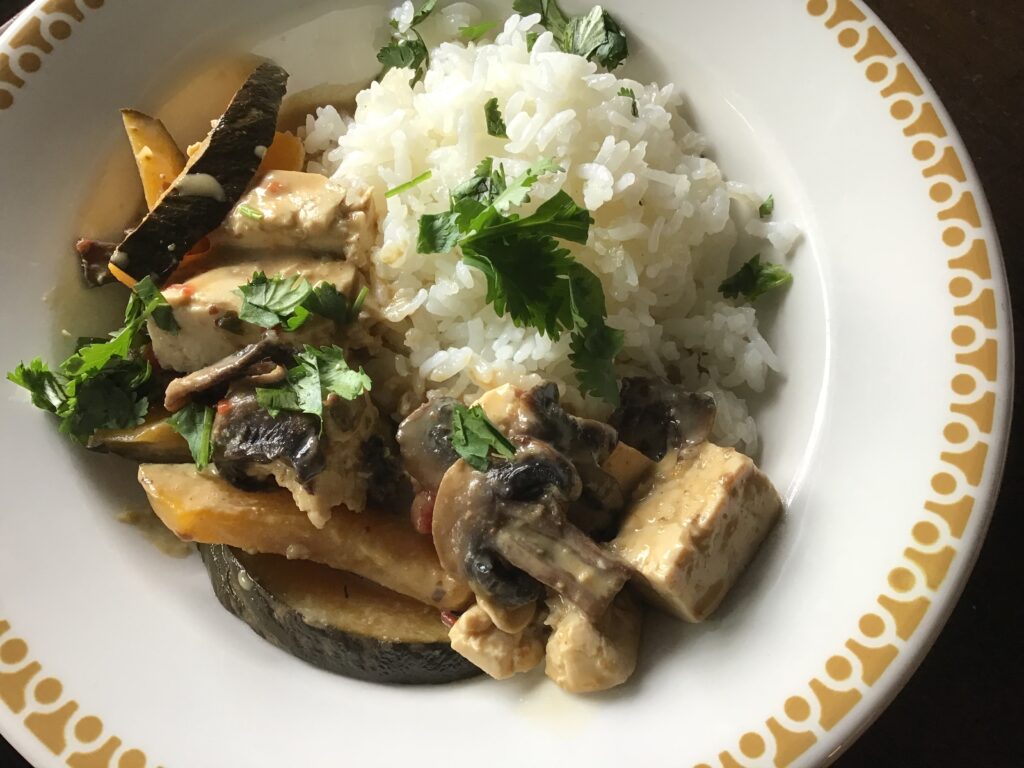 My daughter, OmaraK, makes this delightful curry. It is so flavorful and soothing. Enjoy!
Serves 4.
Ingredients:
2 Tbsp coconut oil
8 oz mushrooms, sliced
8 oz kabocha or peeled carrots, thinly sliced
12 oz coconut milk
2 c vegetable broth
2 Tbsp green curry paste
2 Tbsp brown sugar
zest of one lime
juice of one lime
8 oz firm tofu, cubed
1 Tbsp white miso
1/2 c cilantro, chopped
Directions:
In a large skillet over medium heat, warm the coconut oil.
Add mushrooms; saute 6 minutes. Remove from heat and set aside.
In a large heavy pot over medium heat, add coconut milk and vegetable broth.
Whisk in green curry paste and brown sugar until incorporated.
Add lime zest, lime juice, tofu, mushrooms and kabocha.
Bring to a simmer, reduce heat and simmer 10-15 minutes or until the kabocha is tender and the sauce has thickened.
In a small bowl, place 1/4 cup of the broth. Stir in the miso until well-dissolved and add back to pot.
Top with cilantro and serve hot with sticky rice.