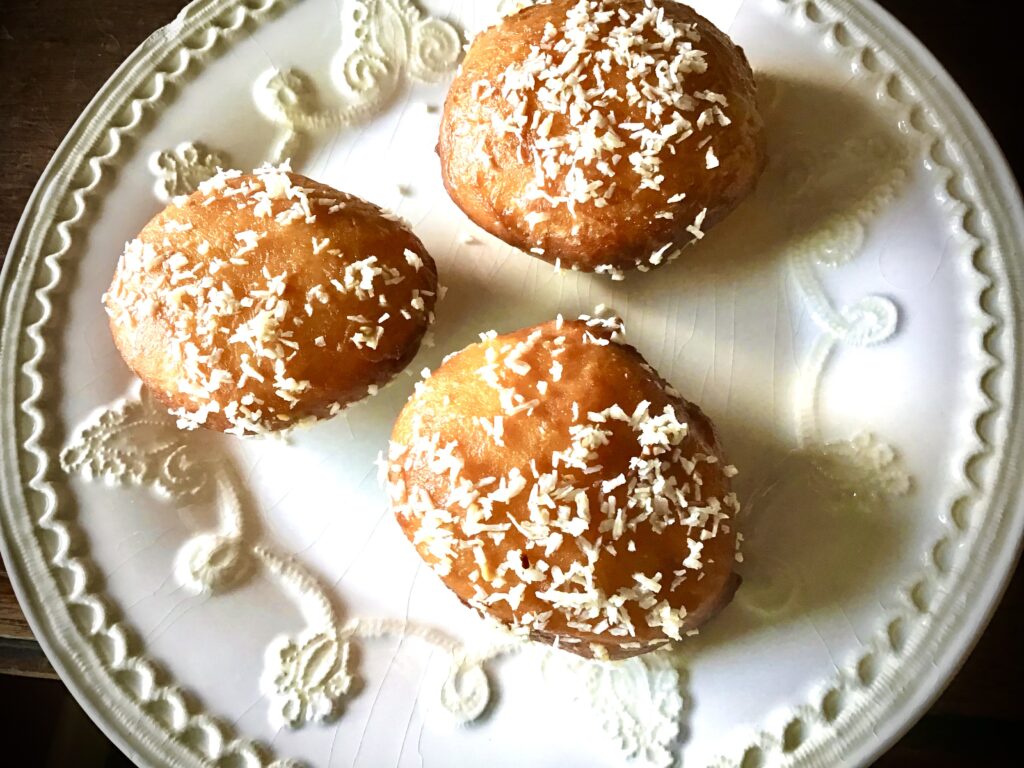 Ingredients:
Dough:
1 c warm milk (105-110 degrees F)
1 Tbsp instant yeast
1 Tbsp warm water
1/4 c sugar
1/4 c melted butter, cooled
1 egg
3 c all purpose flour
1/2 tsp salt
oil for frying
Glaze:
2 Tbsp maple syrup or honey
4 Tbsp softened butter
1 c powdered sugar
Directions:
Dough:
In a medium bowl, add the warm milk.
Dissolve the yeast in the warm water and add to the milk.
Stir in the sugar and melted butter.
Separate the egg and add just the yolk to the yeast mixture.
Beat the egg white until stiff and fold in.
In a large bowl, whisk together the flour and salt. Add yeast mixture.
Beat by hand until the dough comes together and is smooth.
Cover and place in a warm spot until doubled in volume.
Fold dough over a couple of times and shape into a ball.
Lightly flour work surface and top of dough ball.
Use rolling pin to roll out into a 1/2 inch thick sheet.
Use a 3-inch biscuit cutter or juice glass to cut out doughnuts. If you use a different size, adjust cooking time accordingly.
Cover and allow to stand 15-20 minutes while heating oil in a heavy pot. Oil should be 2 inches or more deep and 360 degrees F. Next to the hot oil, set up a wire rack over a baking sheet for draining doughnuts as they are cooked.
Cook 4 doughnuts at a time, turning often, for a total of about 3 minutes, or until they are deep brown. Transfer cooked doughnuts to wire rack to drain. (I like to test one of the first cooked doughnuts by slicing it in half to assure that it is cooked through, before proceeding to cook them all.
Glaze:
In a small bowl, blend the syrup and butter together. Add powdered sugar and mix until smooth.
Coat each doughnut on all sides with a thin layer of the glaze. Place back on rack to dry.
If desired, sprinkle freshly glazed doughnuts with coconut, ground nuts or colored sprinkles.
Allow to cool completely before serving. Store extra doughnuts in an air-tight container at room temperature or freeze them for another day.