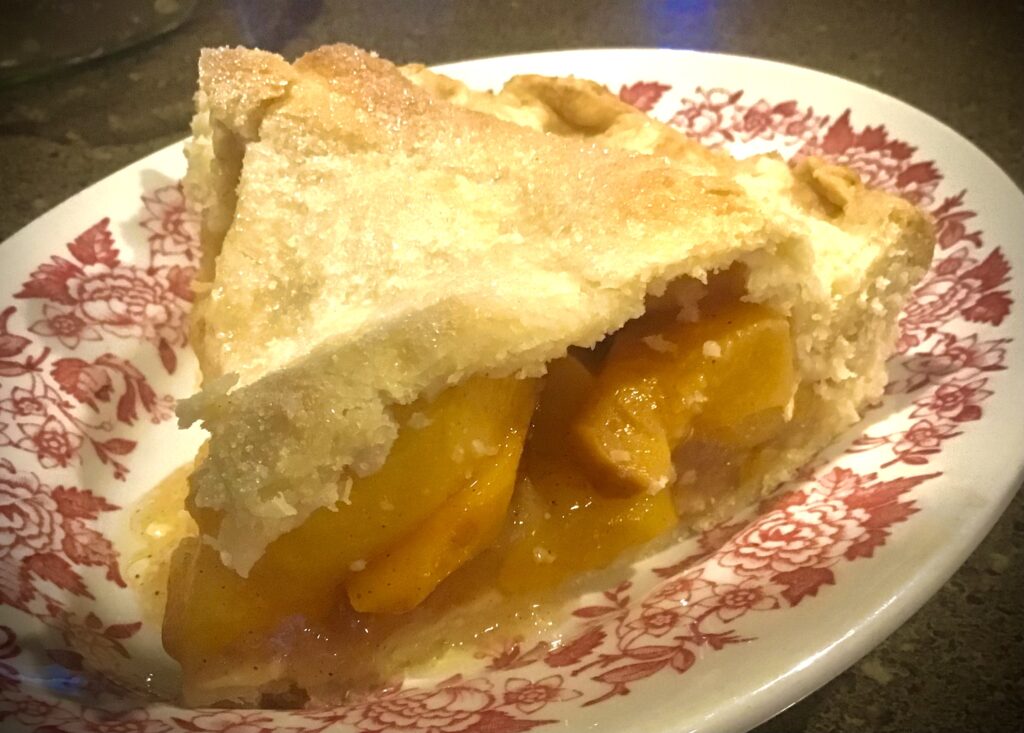 Makes 1 (9.5 inch) peach pie.
Ingredients:
Pie Crust:
2 1/4 c all purpose flour
1 Tbsp sugar
1/2 tsp salt
1/2 tsp cream of tartar
4 Tbsp cold butter
1/2 c cold vegetable shortening
4-5 Tbsp ice water
Pie Filling:
8-9 medium ripe, firm peaches
1/4 c brown sugar
1/2 c granulated sugar (plus 1-2 tbsp for topping crust)
1/4 c corn starch
1/4 tsp cinnamon
1/8 tsp salt
1 Tbsp lemon juice
1 Tbsp butter
1 Tbsp milk or buttermilk
Directions:
Pie Crust:
In medium bowl, whisk together flour, sugar, salt, and cream of tartar,.
Using box grater, coarsely shred the butter; add to dry ingredients along with shortening.
Using pastry cutter or fork, blend fats into dry ingredients until the size of small peas.
Sprinkle in ice water gradually, until dough comes together in a ball.
Divide dough in half; form two dough balls. Using a rolling pie, roll one between sheets of wax paper until it fits a 9 1/2 inch pie plate. Place pie plate with rolled dough in refrigerator.
Repeat with the second dough ball, leaving it on wax paper and laying it on top of pie plate in refrigerator while proceeding with filling.
Pie Filling:
Preheat oven to 375 degrees F.
Into large bowl, peel and slice peaches.
Add brown sugar, granulated sugar, corn starch, cinnamon, salt, and lemon juice. Stir well.
Remove pie crusts from refrigerator and fill lower crust with peach filling. Dot top with the butter.
Add top crust and crimp edges. Brush crust with (1 tablespoon) milk. Sprinkle with reserved 1-2 tbsp sugar.
Cut several slits in top crust with sharp knife.
Place pie on baking sheet to catch any drips.
Bake 50-60 minutes, or until filling bubbles out a from slits in top crust.
Cool at least an hour before serving.