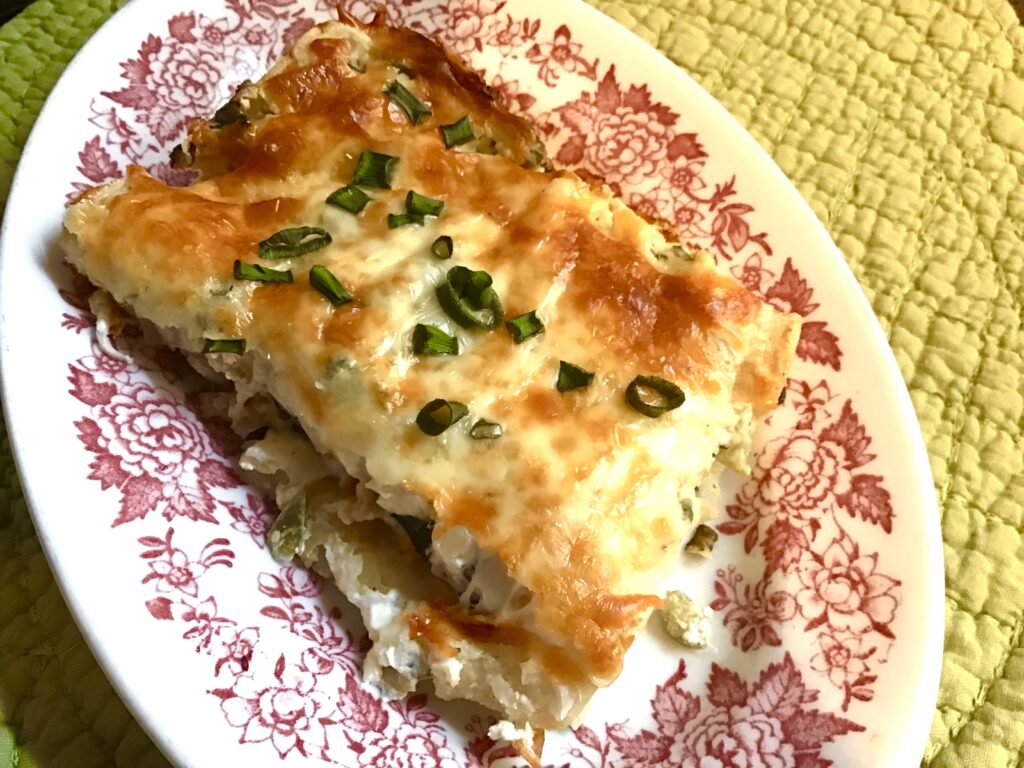 Serves 4.
Ingredients:
3 medium potatoes, peeled, cut in thin strips
8 oz cream cheese, softened
1/4 c milk
1 c sour cream
2 jalapenos, roasted and minced
5 medium tomatillos, minced
1/2 medium onion, minced
1/4 c cilantro, minced (divided use)
1/4 c green onions, sliced (divided use)
1 Tbsp brown sugar
1/2 tsp garlic powder
1/2 tsp salt
1/4 tsp pepper
1-2 Tbsp vegetable oil
12 (5-6″) corn tortillas
2 c mozzarella, shredded
Directions:
In a medium pot of boiling, salted water, place the potatoes. Bring back to simmer. Reduce heat and simmer 3 minutes. Drain potatoes well and set aside.
In large bowl, mix the cream cheese and milk until smooth .
Add sour cream, jalapenos, tomatillos, onions, half of the cilantro, half of the green onions, brown sugar, garlic powder, salt and pepper. Mix this creamy sauce well; set aside.
Warm a skillet over medium heat. Brush bottom with oil. Add a corn tortilla and cook 15-20 seconds on each side or until softened and beginning to bubble up. Place on holding plate. Repeat with remaining tortillas.
Preheat oven to 375 degrees F. Into an 11 x 7 x 2″ baking dish, spoon a thin layer of the creamy sauce, covering the bottom. Onto one tortilla, place a row of potato strips and a tablespoon of mozzarella. Roll the tortilla up; place it in the sauced pan. Repeat with all tortillas until you have all twelve enchiladas close together in the pan.
Spoon the remaining creamy sauce on top, covering all the enchiladas. Sprinkle with remaining mozzarella. Scatter remaining green onions on top.
Bake 30 minutes or until browned. Sprinkle with remaining cilantro and serve hot.