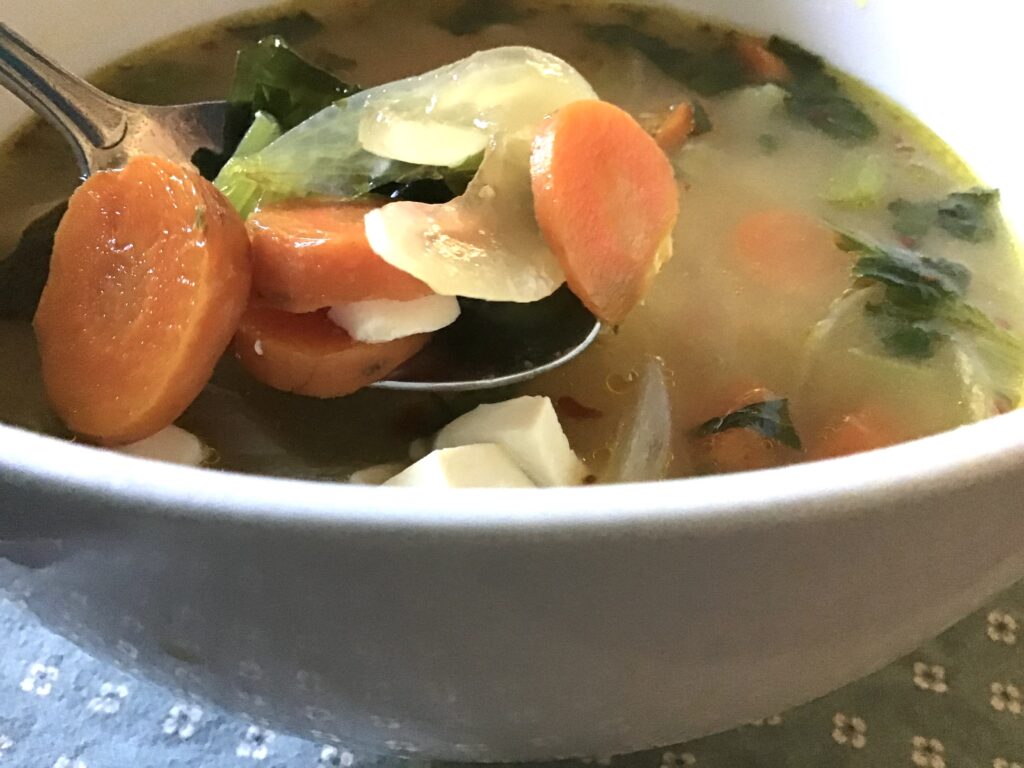 Awase miso has a flavor that is halfway between red miso and white miso, a little sweet and a little bit sharp. You may substitute 2 tablespoons white miso and 2 tablespoons red miso for the 4 tablespoons awase miso in this recipe.
Makes 5-6 cups miso soup.
Ingredients:
2 Tbsp vegetable oil
1 medium onion, sliced
2 medium carrots, peeled, sliced
2 ribs celery, sliced
1/4 tsp red pepper flakes
1 clove garlic, minced
4 c vegetable broth
6 oz tofu, cubed (1/2″)
1/3 c chopped fresh spinach, shiso leaf or other greens
4 Tbsp awase miso
Directions:
In a large pot over medium heat, warm the oil.
Add onion, carrots, and celery. Saute 3-4 minutes.
Stir in the red pepper flakes and garlic; saute another minute.
Pour in vegetable broth; bring to boil.
Reduce heat and simmer 2 minutes.
Stir in tofu, spinach, and wakame. Bring back to heat.
Remove 1 cup of the soup broth to a bowl. Stir in the miso until dissolved; add back to soup.
Serve hot, sprinkled with sliced green onions if desired.