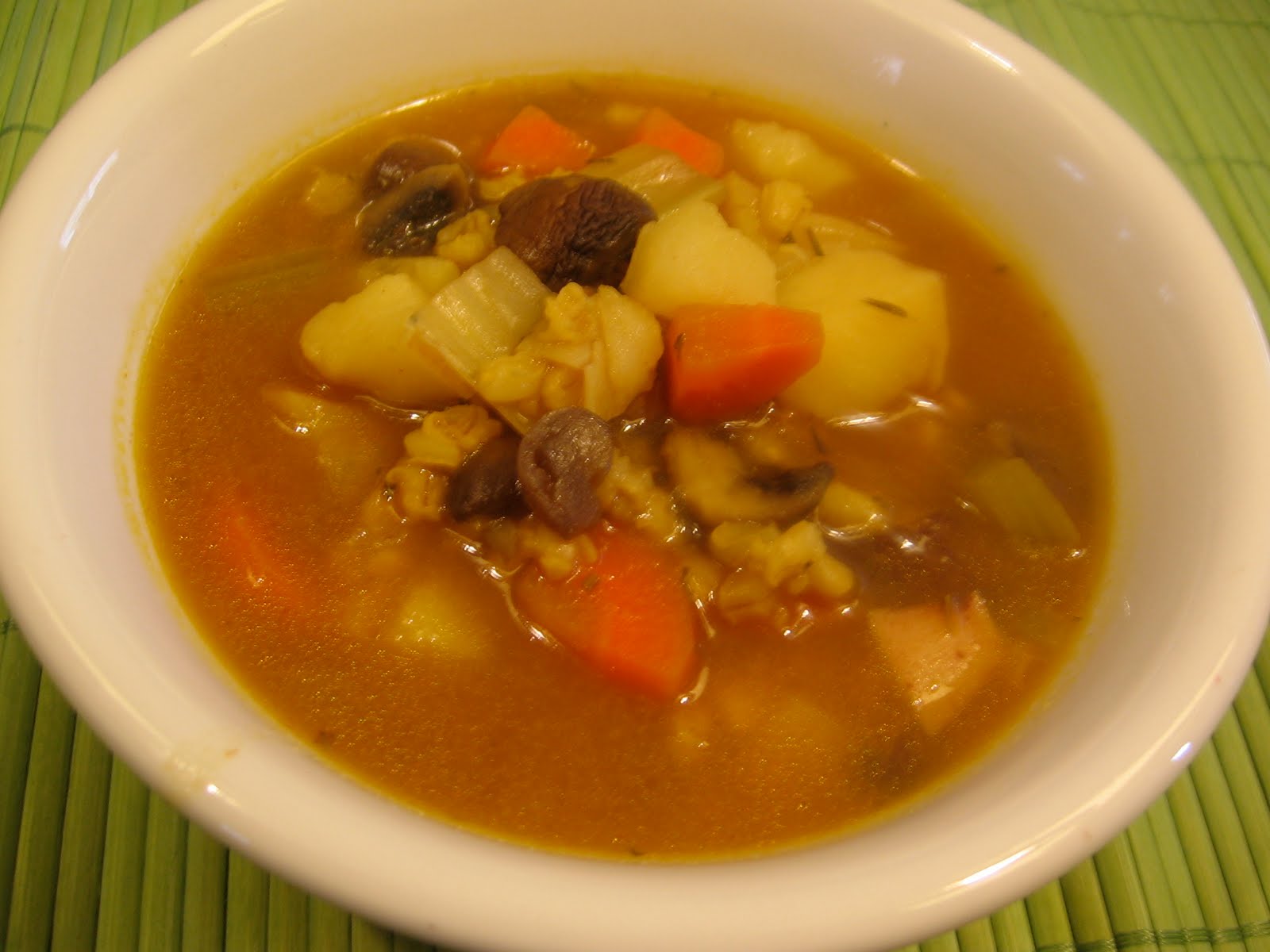 According to the famous chef, Jacques Pepin, it is fine to wash mushrooms under running water if you are cooking with them immediately afterward. Baby Bellas work well in this recipe, but button mushrooms or brown mushrooms would do fine also. This makes a large pot of soup, but you can freeze half of it for a rainy day.
Serves 8.
Ingredients:
16 oz Baby Bella mushrooms
1/2 large white onion
3 stalks celery
1 large carrot
3 Tbsp olive oil
2 cloves garlic
1 jalapeno pepper, seeded
1 tsp dry summer savory or thyme
1 tsp dry parsley (or use 1 T fresh minced parsley)
1/2 tsp turmeric
1/2 tsp paprika
1/2 tsp mustard powder
1 red potato with skin, chopped
1 tsp Vegeta powder or use 1/2 tsp salt
1 bay leaf
2 Tbsp tomato paste
2 Tbsp vegetarian Worcestershire sauce
1 quart vegetable broth
1 quart water
1/2 c whole barley, rinsed
Directions:
Coarsely chop the mushrooms, onion, celery, carrot and potato.
Heat a stock pot or Dutch oven over medium high and add the olive oil.
Saute the mushrooms, onion, celery, and carrot in the oil for about 4 minutes.
Mince the garlic and jalapeno and add to the vegetable mix, sautéing for an addition 2 minutes.
Add the savory, parsley, turmeric, paprika, and mustard powder and saute another minute.
Add the remaining ingredients and stir well over high heat. When it reaches a boil, cover and turn to low heat.
Simmer for 1 hour or until the barley is tender and the soup has thickened.
Adjust for salt.