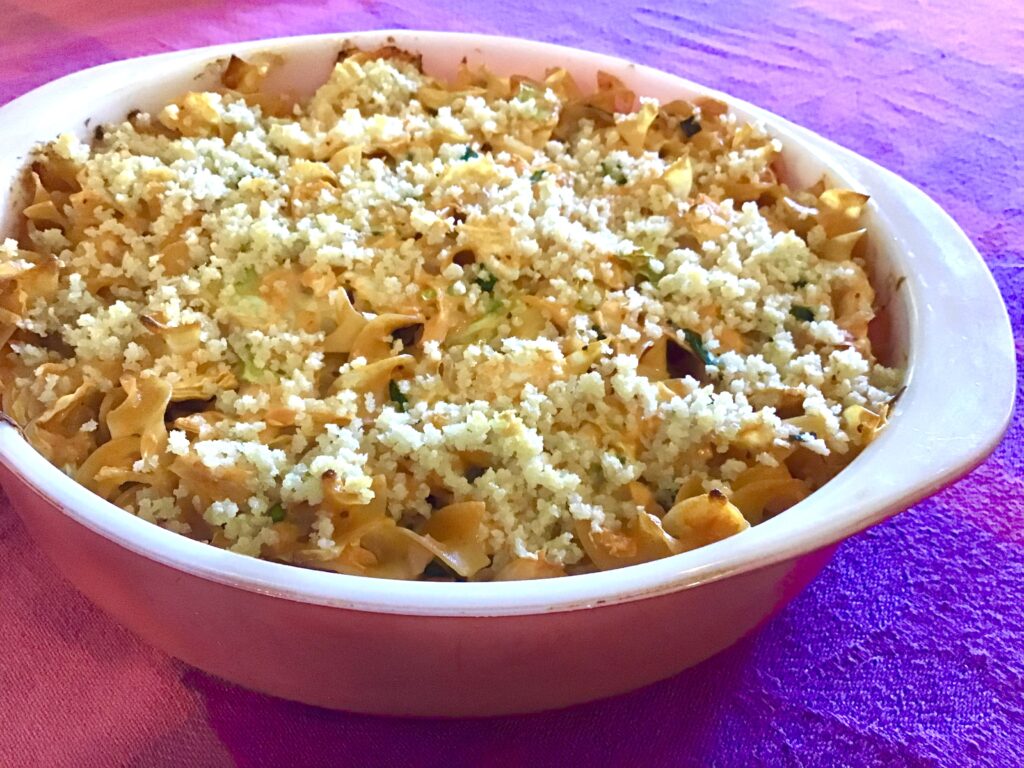 Crunchy on top and creamy inside, this is a casserole that will please your family. Serve alongside any vegetarian main course.
Serves 4-5.
Ingredients:
4 oz wide noodles
4 c cabbage, finely chopped
1 c turnips, peeled, shredded (1 small)
1/4 c green onion tops, chopped
1 (10.7 oz) can condensed tomato soup
1/2 c sour cream
1/4 tsp celery seed
1/4 tsp vegetable salt (or sea salt)
1 Tbsp butter, melted
3 Tbsp bread crumbs
Directions:
Preheat oven to 350 degrees F and butter an 11 x 7 x 2 inch baking dish.
Cook noodles in salted, boiling water for about 6 minutes or until al dente.
Drain noodles and place in large bowl with cabbage, turnip, and green onion. Toss well,
In a medium bowl, blend together the full-strength, condensed tomato soup with the sour cream. Add celery seed and vegetable salt and stir well.
Pour the creamy soup mixture over the noodle-vegetable mixture and toss well.
Spoon mixture into the prepared baking dish.
Blend the melted butter and bread crumbs; sprinkle evenly on top.
Bake 30 minutes or until slightly browned on top. Serve hot.