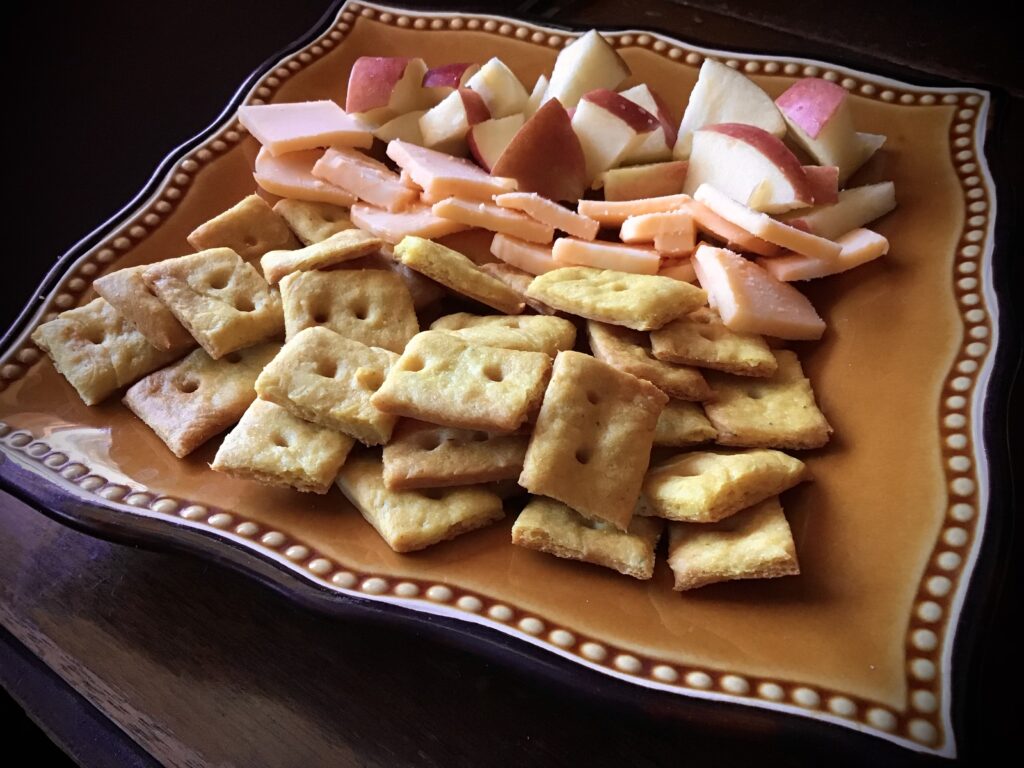 These delectable crackers are the creation of my son, Oren. They are very easy to make and turn out flavorful and crunchy.
Ingredients:
300 g whole wheat flour or flour of choice
3 tsp (12 g) baking powder
1 tsp (2.5-7.5 g) salt
75 g fat (oil, butter, margarine or vegetable shortening)
150 g water
(For "Goldfish" style crackers, add 30 g nutritional yeast, 1/4 tsp turmeric and black pepper to taste. For Saltine style, low fat crackers, decrease fat to 30 g and knead fully.)
Directions:
Place ingredients in the bowl of a stand mixer with a paddle. Mix together.
Knead for 4-5 minutes. (You may alternatively knead by hand for 5 minutes.)
Allow to rest 5 minutes. (optional)
Using a rolling pin or straight-sided bottle, roll dough directly onto dry baking sheet(s) until very thin, about the thickness of a cooked tortilla. (These will puff up in oven.)
Using a knife, cut into squares, rectangles or desired shape and size.
For a nice presentation, poke each with chopstick once or twice. (optional).
Bake in preheated 400 degrees F oven for 15 minutes or until hard to the touch and lightly browned.
To crisp even further, turn oven off and leave crackers in the residual heat for 5 minutes or more.
Cool on baking sheet to room temperature. Break into individual crackers, and enjoy!