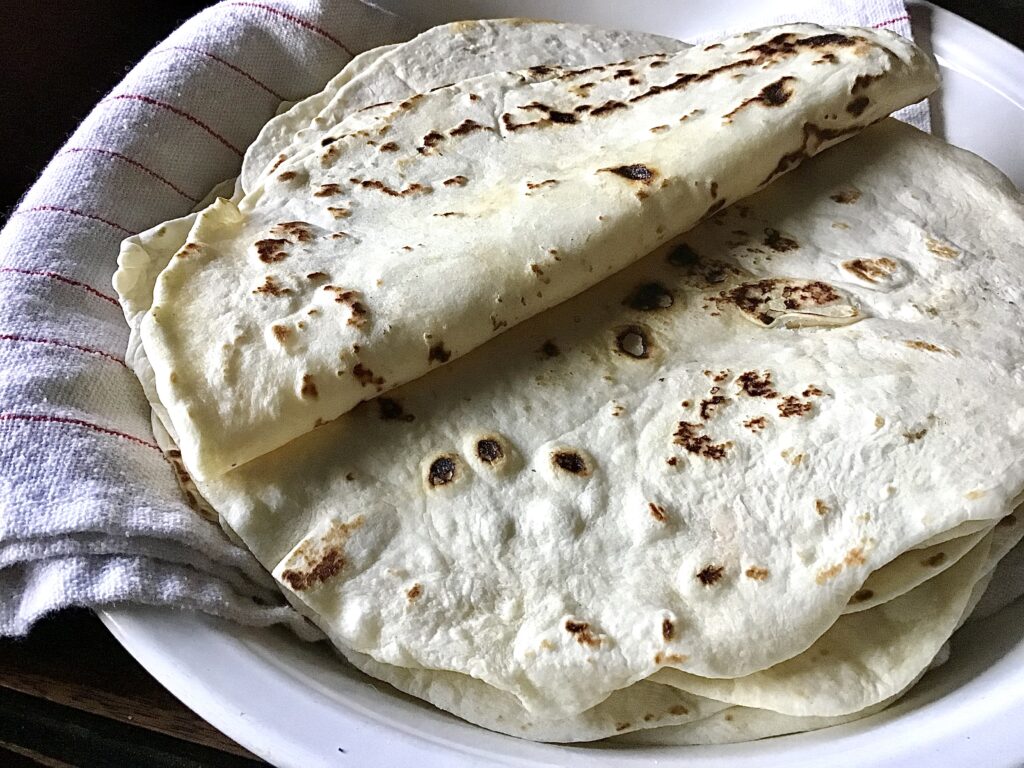 These tortillas are about 94 calories each. We love to make bean and cheese burritos with them.
Makes 12 (8″) tortillas.
Ingredients:
2 c bread flour
1 tsp baking powder
1/2 tsp salt
2/3 cup hot water
2 Tbsp olive oil
Directions:
In a large bowl, whisk together the flour, baking powder and salt.
In a small bowl, mix the hot water and olive oil until viscous.
Make a well in the center of the flour mixture and add the liquid mixture. Mix well with wooden spoon, then mix with clean hands until all is incorporated.
Turn out on work surface and knead 1-2 minutes. Form dough into a ball.
Cover dough ball with the bowl you mixed it in; allow to stand 15 minutes.
Divide dough into 12 equally sized dough balls.
Preheat a heavy skillet or griddle on medium.
With a rolling pin, roll one ball thinly enough to be translucent and to be about 8 inch in diameter.
Place a tortilla holder or pie plate beside the grill and line it with a clean tea towel. Have a spatula handy.
Place rolled tortilla on hot skillet for a few seconds, flip over and heat another few seconds. Flip over a second time and cook for a few more seconds. (Tortillas should bubble up a bit and have charred/brown spots on both sides.)
Remove tortilla to lined tortilla holder/pie plate. Repeat with remaining dough balls.
When tortillas are cool, cover with tea towel and a lid or aluminum foil to store at room temperature.