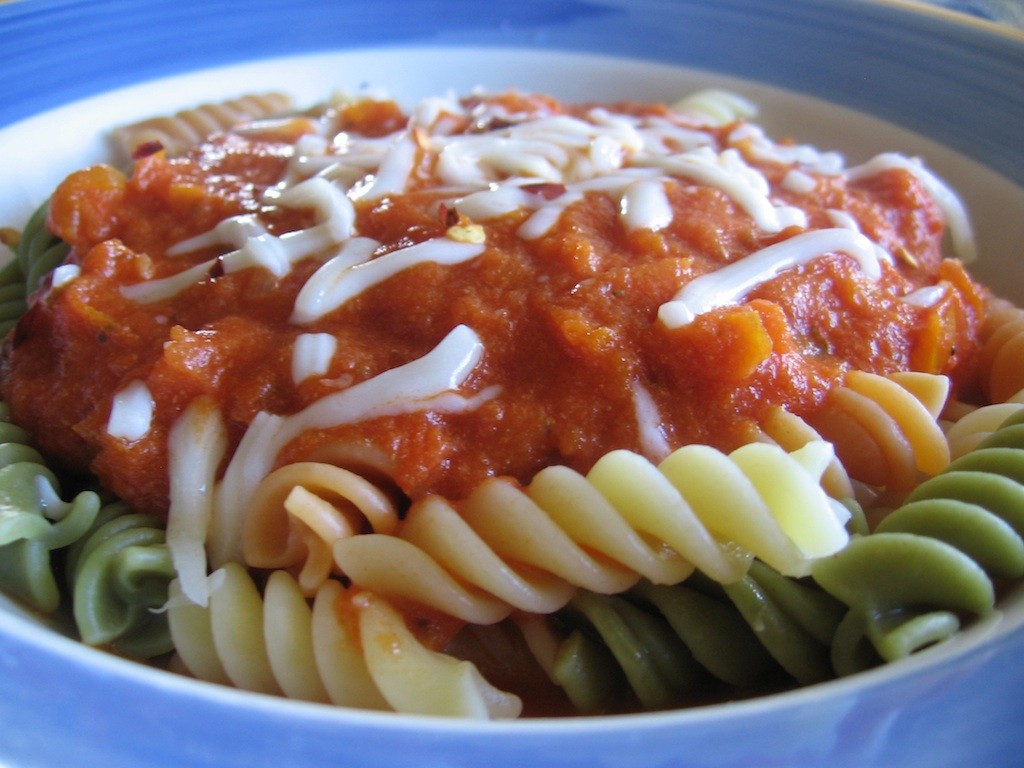 This creamy sauce has the sweet goodness of red or orange bell peppers and a touch of cream or whole milk. It teams up perfectly with some rich mozzarella cheese.
Serves 4.
Ingredients:
2 Tbsp extra virgin olive oil
2 Tbsp unsalted butter
1/2 large yellow onion, minced
3 garlic cloves, minced
1 1/2 tsp oregano
6 dashes of red pepper flakes (or to taste)
1-28 oz can crushed tomatoes
1 1/2 to 2 c water
3 red or orange bell peppers, seeded and finely chopped
1/8 tsp salt (or to taste)
1/8 tsp black pepper
3/4 c whole milk or half 'n half
1 c mozzarella cheese, shredded
Directions:
In a large pot over low heat, warm the olive oil; add butter and stir until it melts. Add onion and saute 4-8 minutes or until translucent. Add garlic, oregano, and red pepper flakes; saute for 1 minute or until fragrant.
Pour in crushed tomatoes and 1 1/2 cups of water. Bring to boil, then reduce heat to low and partially cover. Simmer 1 1/2 hours to 2 hours, stirring occasionally, and adding water as needed. (Sauce should reduce to a thick consistency.)
Add bell peppers, salt and black pepper and simmer 3 minutes more. If desired, use an immersion blender, food mill, or food processor to puree the sauce. Turn off heat and add milk. Sauce should be a rich red-orange shade. More or less milk may be added for correct consistency.
Adjust salt level to taste. Serve hot over pasta, with a generous sprinkling of mozzarella cheese and extra red pepper flakes.