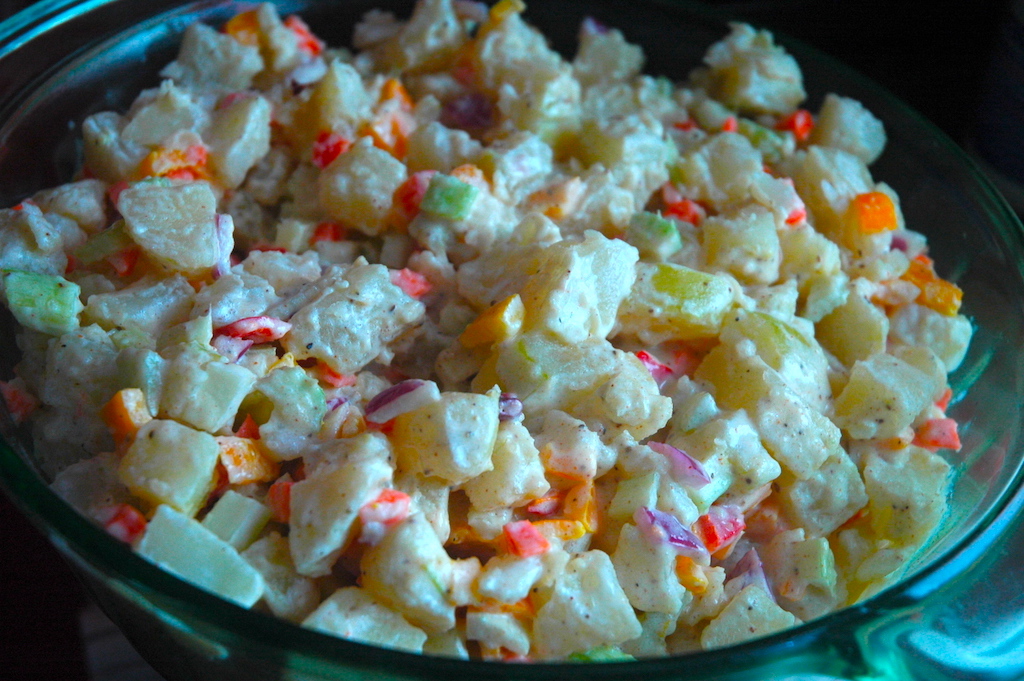 This is a sweet salad with exotic spices in the background. Creamy potatoes with a nice bit of crunch in the vegetables! Use store-bought Old Bay or make your own here!
Makes 6-8 cups.
Ingredients:
8 medium russet potatoes
3 stalks celery, finely chopped
1 large carrot, peeled, finely chopped
1 red, yellow or orange bell pepper, finely chopped
1/3 c finely chopped red onion
1/2 c sweetened condensed milk (or 1/2 regular sized can)
1/2 c mayonnaise
1/4 c apple cider vinegar
1 tsp Old Bay seasoning
1 tsp salt
1/4 tsp pepper
Directions:
Wash potatoes and place in large pot. Cover with water. Place on high heat, bring to boil, reduce heat and boil gently 30 minutes, or until fork tender.
Drain potatoes and cool for at least 30 minutes.
Peel potatoes and cut in small dice. Add to large salad bowl.
Add celery, carrot, bell pepper, and onion.
In blender or small food processor, thoroughly blend the remaining ingredients. (This may also be done by hand in a medium bowl, using a whisk.)
Pour dressing on potato mixture and gently toss until well-coated. Chill 2 hours or more before serving for best results.