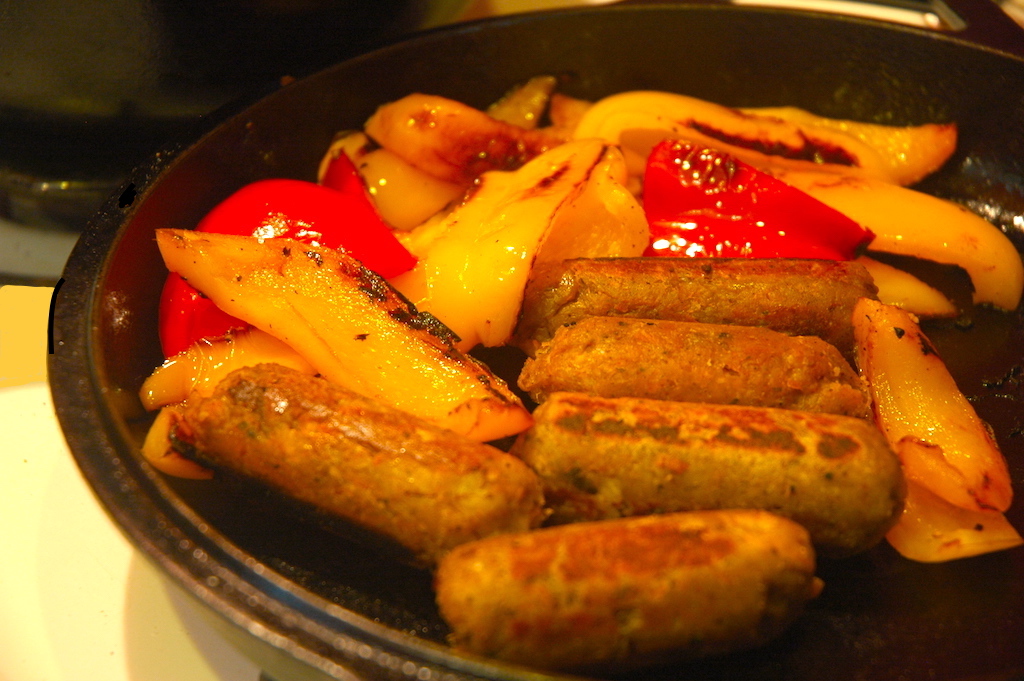 Vegan plant-based sausage casings may not hold up to the heat in this particular recipe, but I have had success with the cellulose casings as well as with aluminum foil. I make this large recipe using a sausage stuffing machine. The sausages are then frozen and ready for use. The seasonings in this recipe are mild so that they can be used for breakfast, in sandwiches and various ethnic dishes. Slice them for use in stews and casseroles as well!
Makes 56 medium sausages.
Ingredients:
1 c TVP (textured vegetable protein)
4 c hot water
1/2 c vegetarian chicken style broth/consommé mix
2 c pureed small red beans
1 c melted butter or vegetable oil
6 c herb seasoned classic stuffing, dry
2 tsp sage
1 tsp smoked paprika
1 tsp savory
2 tsp coarse black pepper
2 tsp salt
4 large eggs, lightly beaten
4 c vital wheat gluten
1 roll of cellulose casings for skinless sausage (or use tin foil)
Directions:
In a large bowl, soak the TVP in the boiling water and broth mix for at least 10 minutes.
Add remaining ingredients in the order listed, mixing well after each addition.
Knead dough a minute or two. Use a sausage machine to press dough into vegetarian cellulose casings or form sausages by hand and use tin foil wrappers as directed below**.
Preheat oven to 350 degrees F.
Place a pan of boiling water in the bottom of oven. Place wrapped or cased sausages on baking sheet(s) on rack(s) above water, and bake 45 minutes.
When cool enough to handle, remove casings/foil and place in zip lock freezer bags. Refrigerate up to a week, or freeze for up to 6 months. To use, oil the sausages lightly and roast, grill or fry them until well browned on all sides.
**Divide dough into 56 even parts. Place one part of dough into tin foil and mold into about a 6-inch log. Wrap dough in tin foil, twisting ends together.