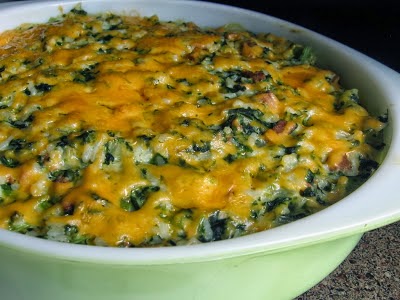 This is such an easy dish to make from ingredients on your pantry shelf. Very nutritious and tasty too!
Serves 6.
Ingredients:
1 Tbsp olive oil
1 medium onion, chopped
1-8 oz can sliced mushrooms
1-14 oz can Allens Mixed Greens, mustard and turnip
1 1/2 c cooked brown rice
1 1/2 c shredded sharp cheddar cheese (divided use)
1 c cottage cheese
1/2 c sour cream
2 eggs
1 Tbsp all purpose flour
2 tsp dry dill
2 tsp dry parsley
1/2 tsp sea salt
1/4 tsp red pepper flakes
Directions:
Preheat oven to 350 degrees F, and butter a 2 quart baking dish or pan.
In a large skillet over medium high heat, warm the olive oil. Saute the onions for about 4-5 minutes. Remove from heat and place in a large bowl.
Add well-drained mushrooms. Drain the greens and squeeze dry. Add to the bowl.
Stir in the rice, 1 cup of the cheddar cheese, the cottage cheese, sour cream, eggs, flour, dill, parsley, salt and red pepper flakes; blend well.
Pour into the prepared baking dish/pan and smooth evenly. Top with the remaining cheese.
Bake uncovered for 45 minutes. Serve hot.