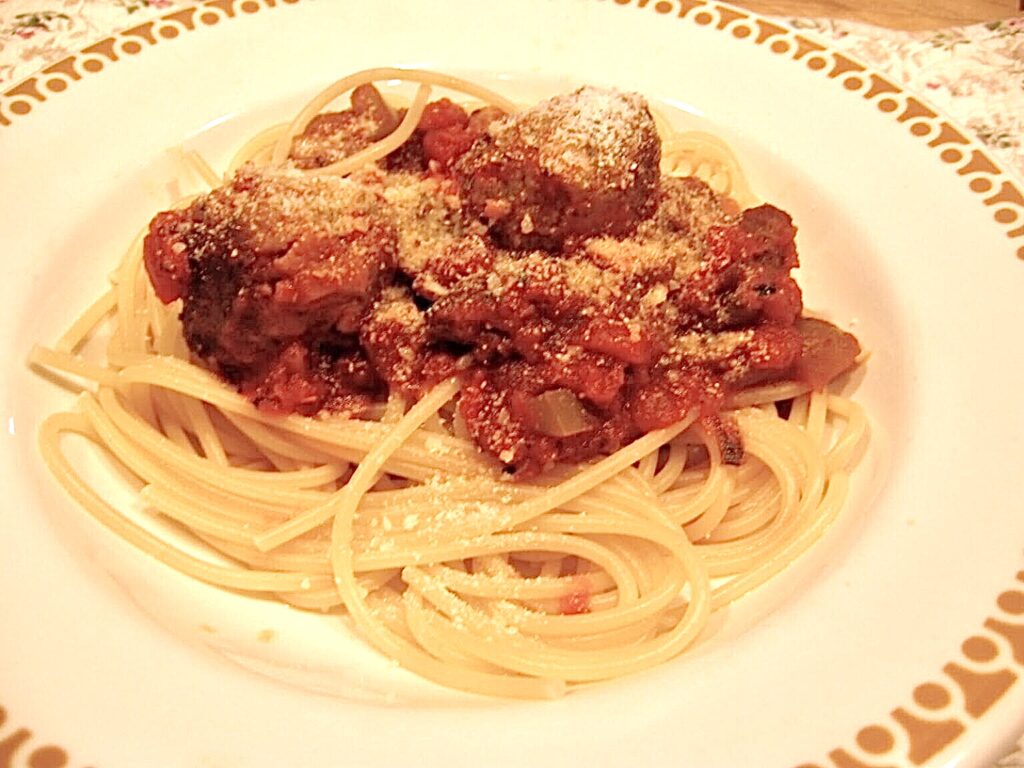 This dish is made with chicken flavored textured vegetable protein (TVP), which is an all vegetarian product. I used the Jerky strips, but you can use any TVP chicken flavored product. To learn more about this product or to order it, go to Honeyville Farms or Foodwise Storage.
Serves 6.
Ingredients:
Sauce:
2 Tbsp extra virgin olive oil
1 medium onion, chopped
1 medium green bell pepper, chopped
dash salt
2 cloves garlic, minced
1/4 tsp fennel seeds
1 quart crushed canned tomatoes
2 c water
1 Tbsp roasted Anaheim pepper, minced (or 1/4 tsp red pepper flakes)
1 tsp dry rosemary
1 bay leaf
10 black olives, roughly chopped (optional)
Chicken Meatballs:
1 1/2 c chicken flavored TVP jerky strips (soya chunks)
1 c water
1/4 c dry plain bread crumbs
2 eggs
1/2 tsp ground oregano
1/4 tsp red pepper flakes
1/4 tsp coarsely ground black pepper
1/4 tsp fennel seeds
1/4 tsp granulated garlic
2 tsp dry parsley
4 Tbsp olive oil
Directions:
Sauce:
Heat oil in a large saucepan.
Saute onion for a couple of minutes.
Add bell pepper and continue to saute until veggies are limp.
Add a dash of salt, garlic and fennel seeds and saute one more minute.
Add the tomatoes, water, pepper, rosemary and bay leaf and stir well.
Simmer uncovered, or with a screen over the pot to keep from splattering, for 1 hour, stirring often.
Start the Chickenballs while simmering the sauce for another hour.
Chicken Meatballs:
Simmer TVP in water for about 5 minutes, or until the water has evaporated or been mostly absorbed.
In a food processor, place the TVP, bread crumbs, eggs, oregano, red pepper, black pepper, fennel seeds, garlic and parsley. Pulse about 10 times, or until well blended.
Form the mixture into tight 3/4 inch balls (makes about 22 balls), using damp hands.
Heat the oil in a heavy large skillet over medium low heat.
Fry the chicken balls, turning frequently, until all sides are golden and the balls seem quite firm when pressed between your fingers.
Remove to a holding plate while sauce continues to simmer.
Pasta:
24 oz spaghetti, cooked al dente in plenty of salted water
Parmesan cheese
Serve the spaghetti with the Chicken Meatballs, plenty of sauce, and Parmesan cheese.