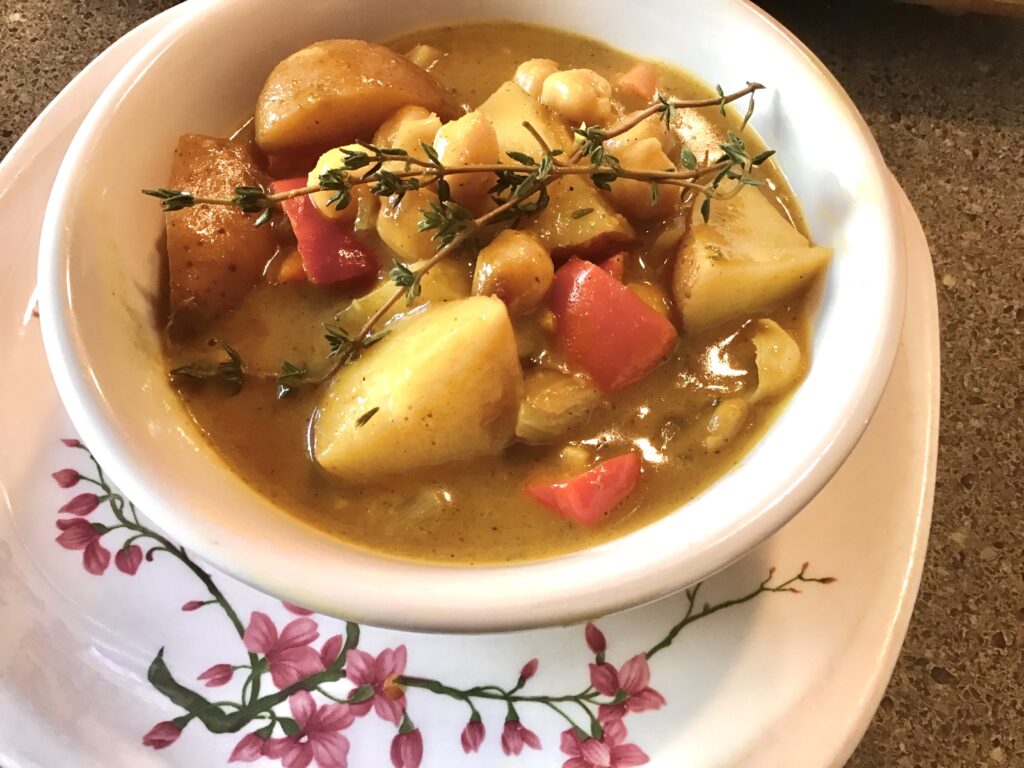 This inexpensive vegetarian meal is comforting and full of nutrition. The chickpeas give it a high protein content. Feel free to vary the vegetables with whatever you have on hand.
Serves 4.
Ingredients:
2 Tbsp coconut oil
1 large onion, chopped
2 cloves garlic minced
1 Tbsp grated ginger root
1 Tbsp Jamaican curry powder
1 Scotch Bonnet chili pepper, seeded, minced ( or 1/2 tsp cayenne)
1 tsp cardamom (optional)
1 c water
2 medium red potatoes, cut in bite-sized pieces
1 red bell pepper, roughly chopped
1 large carrot, peeled, sliced
4-5 sprigs thyme (or use a little dry thyme)
1 1/2- 2 c cooked chickpeas, rinsed, drained
1 Tbsp corn starch
1 Tbsp brown sugar
1/2 tsp salt or to taste
pepper to taste
Directions:
In a 3-quart or larger pot over low heat, melt the coconut oil.
Add onions; saute 10 minutes.
Add garlic and ginger; saute another minute.
Stir in curry powder, cayenne and cardamom; saute another minute.
Pour in water and coconut milk. Bring to simmer.
Add potatoes, red bell peppers, carrots, thyme and chickpeas. Bring back to simmer.
Partially cover. Simmer on low 10 minutes.
Remove a quarter-cup of the broth and place it in a cup with the corn starch and brown sugar; whisk until smooth.. Add to pot and stir until thickened.
Add salt and pepper to taste. Simmer partially cover another 10 minutes. Remove thyme sprigs if desired. Serve in bowls with a nice crisp salad.