With a can of FriChik, a chicken-like vegetarian product by Worthington, you can put together this easy, nutritious one pot meal.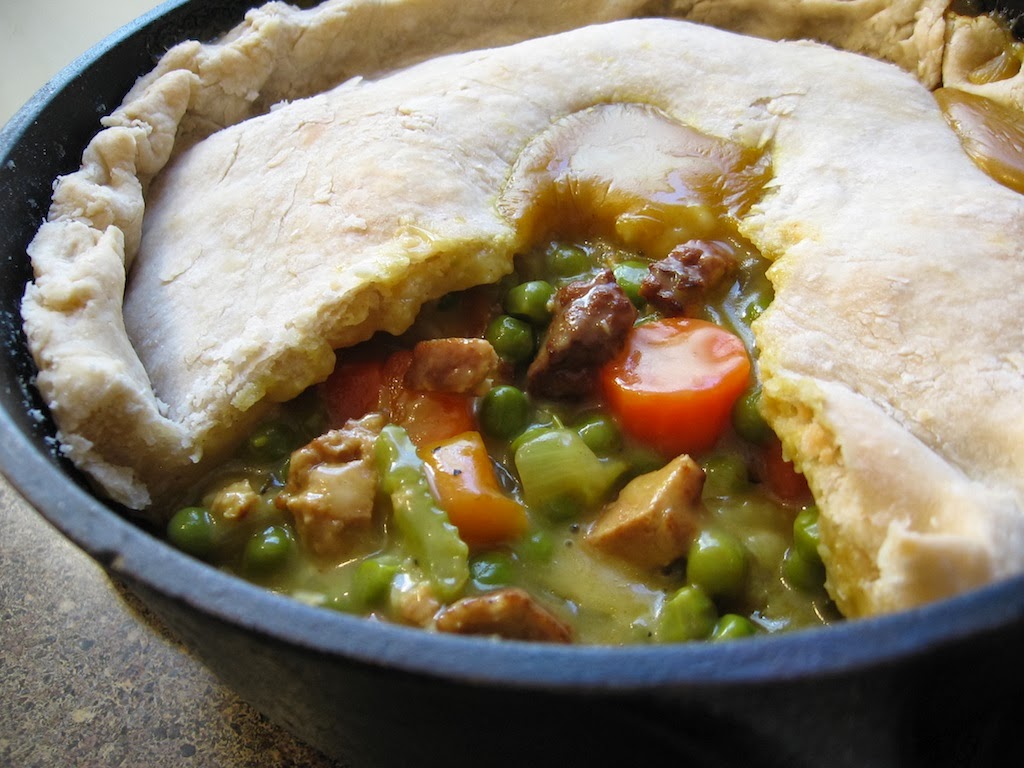 Serves 5-6.
Ingredients:
1-12.5 oz can Worthington FriChik
1 Tbsp vegetable oil
1 small onion, chopped
2 stalks celery, chopped
3 medium carrots, peeled and medium sliced
2 c frozen peas
1-10 oz can condensed cream of celery soup
1/4 tsp turmeric
1/4 tsp savory
1/8 tsp paprika
1/8 tsp coarsely ground black pepper
Pastry:
1 c all purpose flour
1/4 tsp salt
1/4 c vegetable shortening
2-3 Tbsp ice water
Directions:
Strain FriChik, reserving liquid. Dice FriChik. Set aside.
In an oven proof 2-quart pot or 10-inch skillet, heat the oil on medium high. Saute the onion and celery for 3 minutes, or until tender.
Add the reserved FriChik liquid, carrots and peas. Bring to simmer. Reduce heat to low and cover tightly. Simmer 15 minutes, or until carrots are tender.
Stir in the FriChik, cream of celery soup (without adding water), turmeric, savory, paprika and black pepper.
Preheat oven to 350 degrees F.
In a medium bowl, combine the flour and salt. Add shortening and cut in evenly with a fork, pastry cutter, or fingertips. When the lumps of shortening are no bigger than a small pea, stir in the ice water a bit at a time, until the dough comes together.
Roll out dough to be an inch bigger than your pot, using a bit of flour on the rolling pin and rolling surface. Place dough on top of filling. Roll excess dough under to fit surface; crimp edges. Cut slits in the crust to allow air to escape.
Bake 30 minutes, or until dough has a golden cast and the filling has bubbled through the slits. Allow to stand at least 15 minutes to thicken. Cut and spoon out into shallow bowls.