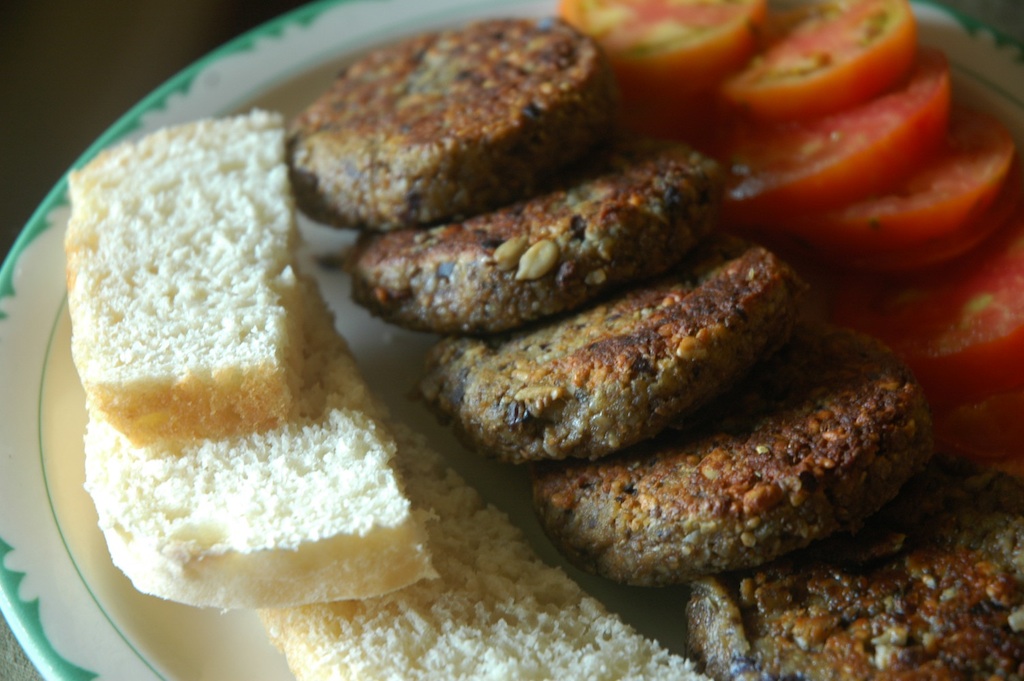 These vegan burgers have such a great texture. They hold together beautifully and yet are very moist and flavorful. Try them on buns or simply as a main course for a vegan dinner.
Makes about 8 small or 6 large burgers.
Ingredients:
2 Tbsp chia seeds
1/4 c water
1 c whole wheat dry breadcrumbs
1 c raw sunflower seeds
2 c cubed whole eggplant
2 Tbsp olive oil (plus more for frying)
1 tsp Herbes de Provence

1/2 tsp salt
1/2 tsp pepper
Directions:
In a small bowl, blend the chia seeds and water. Allow to stand and thicken 10 minutes.
In a food processor, place the chia seed mixture, bread crumbs, sunflower seeds, eggplant, olive oil, Herbes de Provence

, salt and pepper. Pulse several times, then process a couple of minutes, or until a thick meat-like dough develops.

Form by hand into burgers or use an oiled patty press. In a large skillet over medium-low heat, warm 2-3 tablespoons of olive oil. Working in one or two batches, add the patties.
Brown lightly on each side, turning a few times. Transfer to a buns or place on a serving plate. Serve hot.