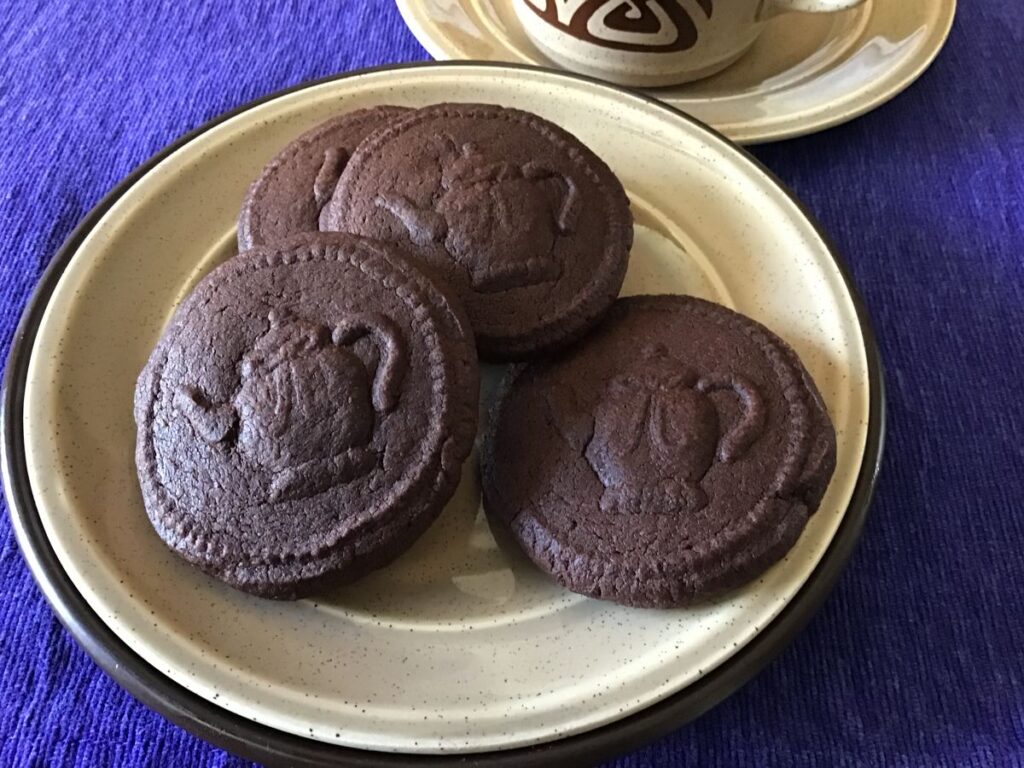 I made these cookies with a 2 1/4 inch wooden cookie stamp, but you could roll the dough out 1/3 inch thick and cut it with a biscuit cutter. Adjust baking time accordingly.
Makes 16 medium stamped cookies.
Ingredients:
1 c all purpose or bread flour
1/2 c powdered sugar
1/4 c Dutch process unsweetened cocoa powder
1/2 c (1 stick) salted cold butter
1 Tbsp liquid vanilla extract (no substitutions)
Directions:
Preheat oven to 300 degrees F and line a baking sheet with parchment.
Put flour, powdered sugar, and cocoa powder in a food processor. Pulse a few times to combine.
Cut cold butter into medium dice. Add it to food processor. Process about 15 seconds..
Add vanilla last. Process another 15 seconds or until the mixture starts to clump up and look moist.
Turn dough onto clean dry surface and bring together into a ball. If your kitchen is very warm or it is a hot day, chill the dough in the refrigerator for at least 15 minutes before proceeding.
Divide dough into 16 equal portions (about 24.75 grams each). Roll each portion between your palms into a ball.
Press one ball down with a 2 1/4 inch cookie stamp until the dough just reaches all edges of the stamp. Before removing stamp, use fingers to neaten the edges around the stamp. Remove stamp.
Use a metal spatula or dough scraper to transfer cookie to prepared baking sheet. Repeat process with all dough balls, leaving at least 1/2 inch between cookies.
Bake 15 minutes or until firm. Allow to cool on sheet 5 minutes; then transfer them to a cooling rack. Cool completely.
Serve as is or with a scoop of vanilla ice cream. Store extra cookies in a sealed tin or container at room temperature for up to a month.