To make this recipe you can crumble up some of our homemade Low Carb TVP sausages or TVP Breakfast Sausage Patties. If you are short on time, use store-brought crumbles, such as the ones put out by MorningStar Farms. Either way, this will be a meal your family will enjoy.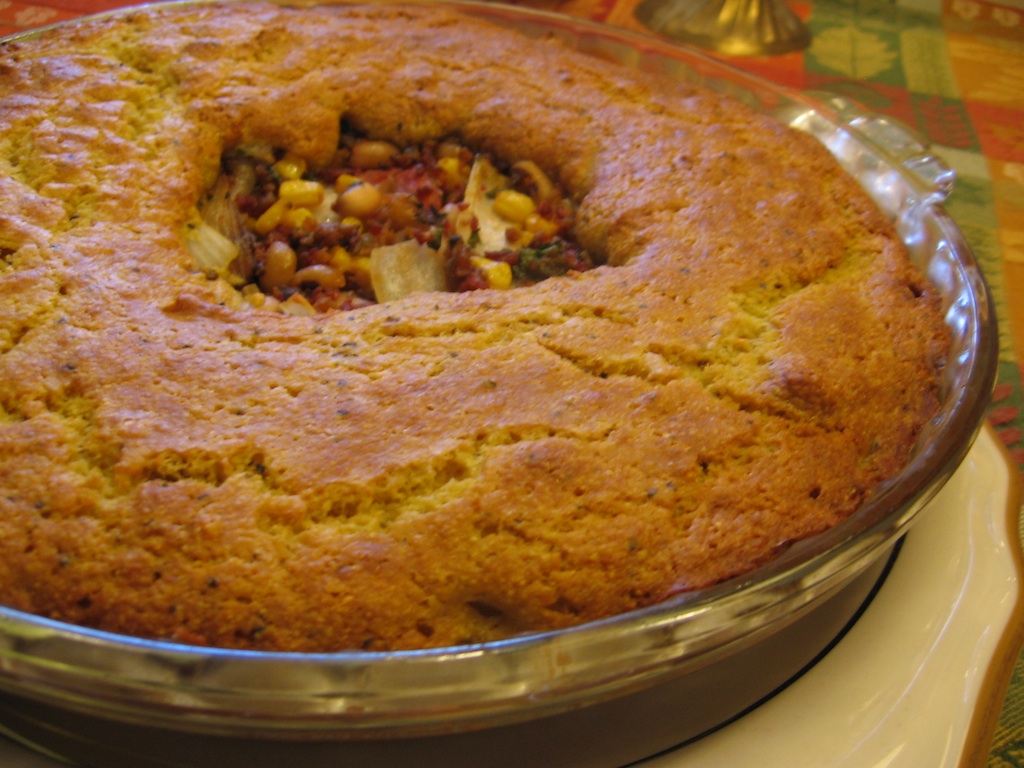 Serves 6.
Ingredients:
Filling:
2 Tbsp vegetable oil
1/2 c veggie sausage crumbles
1 medium onion, cut in wedges
1 clove of garlic, minced
1 c black eyed peas (freshly cooked or canned), drained
1 c corn (frozen, canned or fresh), drained
1-14.5 oz can Del Monte Diced Tomatoes with Green Pepper and Onion
3 Tbsp fresh cilantro, minced
salt to taste
Topping:
2 Tbsp melted butter
2 Tbsp honey
1/2 c buttermilk
1 egg, beaten
1/2 c cornmeal
1/2 c all-purpose flour
1/4 tsp salt
1 tsp baking soda
1/2 tsp black pepper
Directions:
Preheat oven to 425 degrees F. Butter a 9.5 inch pie pan. In a large skillet, heat oil and add sausage crumbles. Saute till well browned. Add onion and continue to saute until softened and the wedge layers have separated. And garlic and cook another minute.
Stir in black-eyed peas, corn, tomatoes, and cilantro. Add salt if needed. Cook just until heated through, about 2 minutes. Pour into prepared pan.
Melt the butter with the honey until smooth. In a small bowl, stir the butter/honey mixture into the buttermilk. Blend in the beaten egg. In a medium bowl, mix together the cornmeal, flour, salt, baking soda and black pepper. Add the egg mixture and fold in until barely blended. Spoon the topping around the edges of the sausage mixture. Bake for 20-25 minutes or until golden brown.