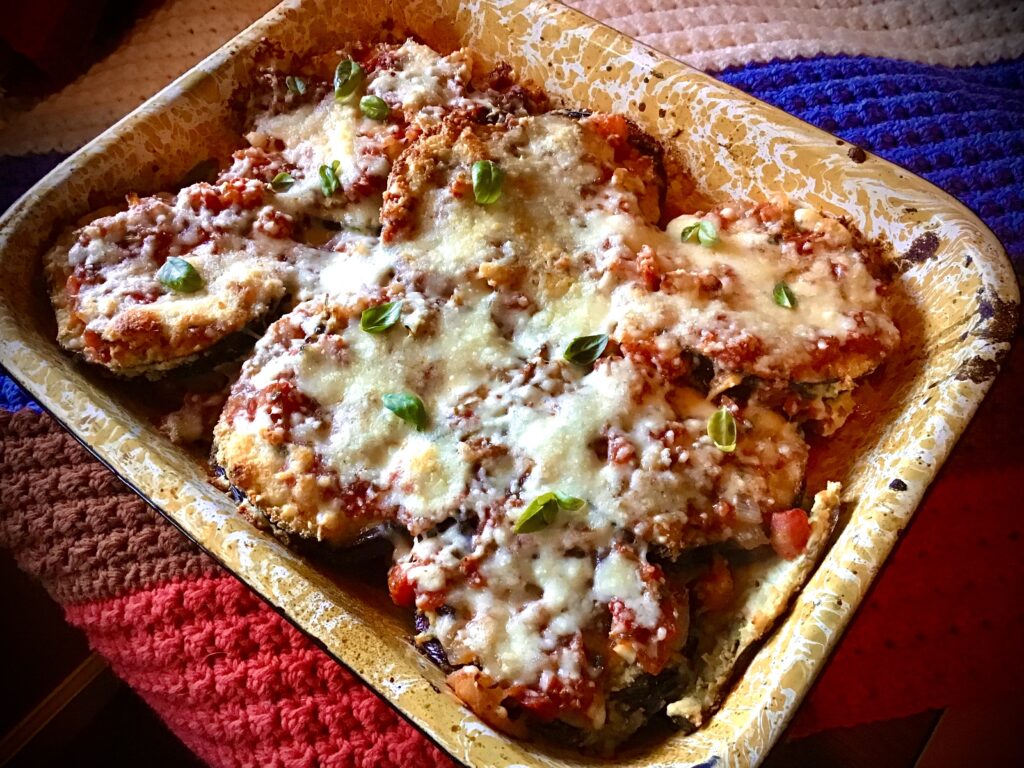 Serves 4-6.
Ingredients:
Marinara Sauce:
1 1/2 Tbsp olive oil
1 medium onion, chopped
1-2 cloves garlic, minced
1 (28 oz) can petite diced tomatoes
1/3 c minced parsley
1 tsp dry oregano leaves
1 tsp dry thyme
1/4 tsp red pepper flakes
salt and pepper to taste
Breaded Eggplant:
1 large eggplant
3 large eggs
1/2 tsp salt
1/4 tsp pepper
1 1/2 c almond flour
1 c grated Parmesan (divided use)
1 c shredded Mozarella
Directions:
Marinara Sauce:
In a heavy pot over medium low heat, warm the olive oil.
Add onions; saute 10 minutes.
Add garlic; saute another minute.
Stir in the tomatoes, parsley, oregano, thyme, red pepper flakes, and salt/pepper to taste.
Bring to simmer, reduce heat, partially cover, and simmer 15 minutes.
Stir, remove from heat and set aside.
Breaded Eggplant and Baking:
Wash eggplant; cut crosswise into 1/3 inch thick slices.
In a shallow bowl, beat the eggs, salt and pepper well.
In a second shallow bowl, mix together the almond flour and 3/4 cup of the grated Parmesan.
Preheat oven to 400 degrees F and generously oil large baking sheet(s) with olive oil.
Dip each eggplant slice in egg, turning to coat both sides. Dredge each slice in almond flour mixture. Set breaded eggplant in single layer on the prepared baking sheet(s).
Bake 20 minutes, or until lightly browned. (Leave oven on after removing eggplant.)
In a 13 x 9 x 2 inch baking dish, spoon a little of the marinara sauce, spreading it over the bottom of the dish.
Add half the breaded eggplant slices in a single layer.
Pour over half of the remaining marinara, spreading evenly.
Repeat layers with remaining eggplant and marinara.
Top with shredded mozzarella and remaining quarter-cup of Parmesan.
Bake uncovered 20 minutes more.
Serve hot or warm with a salad.