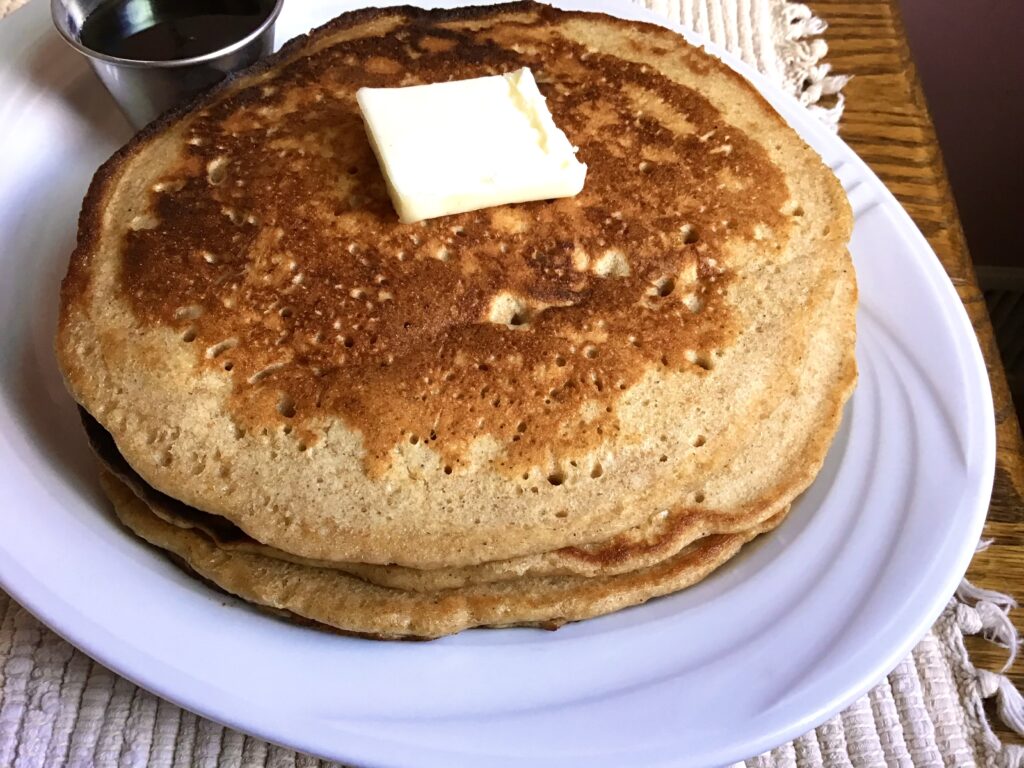 These pancakes, made from the sourdough starter that is often discarded, are especially delicious. Uae 100% hydration starter (equal parts of flour and water) for best consistency.
Makes 4 large pancakes.
Ingredients:
1 large egg
1/2 c sourdough starter (100% hydration)
1/2 c milk
1/4 c water
1 tsp vanilla extract
1 c whole wheat flour
1 Tbsp sugar
1 tsp baking powder
1/2 tsp cinnamon
1/4 tsp salt
butter for frying
Directions:
In a medium bowl, lightly beat the egg.
Add starter, milk, water and vanilla. Blend well.
Sift in the flour, sugar, baking powder, cinnamon and salt. Stir just enough to combine.
Cover and allow to stand at room temperature 30-60 minutes.
Preheat a griddle or skillet on medium heat.
Add enough butter to the frying surface to grease it well.
Stir batter lightly. Pour a rounded half-cup of batter onto the hot buttered surface.
Cook about 2 minutes, or until bubbles form and break throughout the top.
Flip over and cook the bottom a minute or so, until firm and browned.
Repeat with remaining batter.
Serve hot with butter and maple syrup.