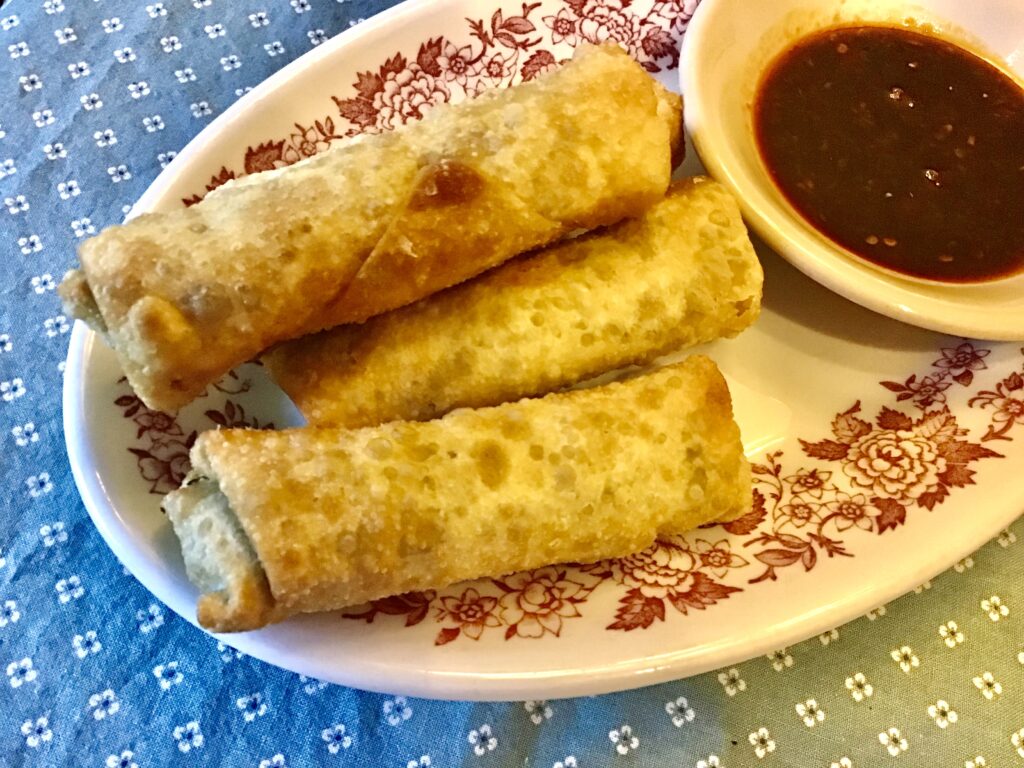 Makes 18 medium egg rolls.
Ingredients:
2 c cabbage, roughly chopped
2 c kale, roughly chopped
8 oz mushrooms, chopped
1/2 medium onion, chopped
1 medium carrot, peeled, shredded
1 clove garlic, crushed
1 inch ginger root, grated
2 Tbsp soy sauce
1 Tbsp chili oil (or 1/4 tsp red pepper flakes)
1 egg, beaten
2 Tbsp cornstarch (divided use)
1 Tbsp chicken style broth mix
18 egg roll wrappers
vegetable oil for frying
Directions:
Place cabbage, kale, mushrooms and onion in a large food processor; pulse until minced. (This may also be done in two or more batches in a smaller processor, or by hand.)
Place minced vegetables in a large bowl and add carrot, garlic, ginger root, soy sauce, and chili oil. Stir well.
In a large skillet over medium heat, warm some vegetable oil. Add beaten egg and swirl it around. When set up, flip over and allow second side to set up. Turn out on board and shred. Add to bowl of veggies.
Allow to stand 10 minutes. Place mixture in a strainer and drain out excess liquid, pressing gently with the back of a spoon.
Stir in one tablespoon of cornstarch and the tablespoon of broth mix. Place bowl at work station.
In a small bowl, mix the remaining tablespoon of cornstarch with 2 tablespoons of water. Set this slurry at your work station.
Place one egg roll wrapper on your work station, having one point towards you. Place 2-3 tablespoons of the mushroom mixture in a cylindrical row at the lower third of the wrapper.
Dip you finger in the cornstarch slurry and run it along the edges of the wrapper, stirring the slurry as needed.
Roll bottom flap up, tightening around the filling. Roll sides over. Roll the cylinder upwards snugly, sealing well. Set on a holding dish.
Repeat with remaining wrappers, slurry, and filling.
Heat at least 2 inches of vegetable oil in a heavy pot until it reaches 350 degrees F. Fry a few egg rolls at a time until golden brown. (This takes only 2-3 minutes.) Remove to a wire rack over a baking sheet to drain.
Serve hot or at room temperature with my Quick Eggroll Dipping Sauce or any condiment/sauce of your choice.