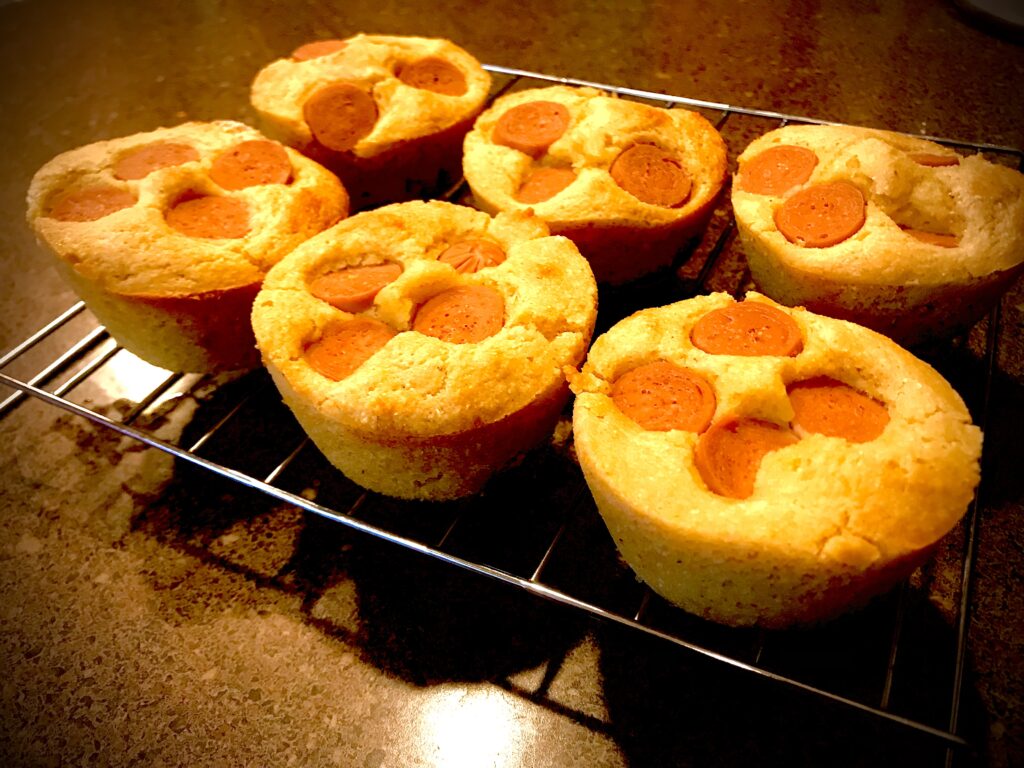 No frying is needed to make these tasty corn dog muffins. Quick and easy, they are great warm or at room temperature. Pack them in your lunchbox for a nice treat.
Makes 6 medium muffins.
Ingredients:
1/2 c yellow corn meal
1/2 c all purpose flour
1/2 tsp baking powder
1/4 tsp baking soda
1/8 tsp salt
1/2 Tbsp butter
1/2 Tbsp honey
1/2 c plain yogurt
1/2 c water
1 large egg, lightly beaten
Directions:
Preheat oven to 350 degrees F and butter a muffin pan that has at least 6 (half-cup) wells.
Into a large bowl, sift the corn meal, flour, baking powder, baking soda, and salt.
In a small saucepan over low heat, melt the butter and honey until smooth. Remove from heat and stir in the yogurt, water, and beaten egg.
Mix the wet ingredients with the dry ingredients until just blended. Do not over-mix!
Spoon the batter evenly into the 6 muffin wells. (Batter will only come up about half-way.)
Cut one veggie dog into four equal segments and stand them upright in the batter of one muffin well. Repeat with remaining veggie dogs and batter.
Bake 18 minutes or until golden brown on top and firm. Cool in pan 5 minutes before loosening sides with a knife. Serve immediately or at room temperature. Best served with mustard on the side.