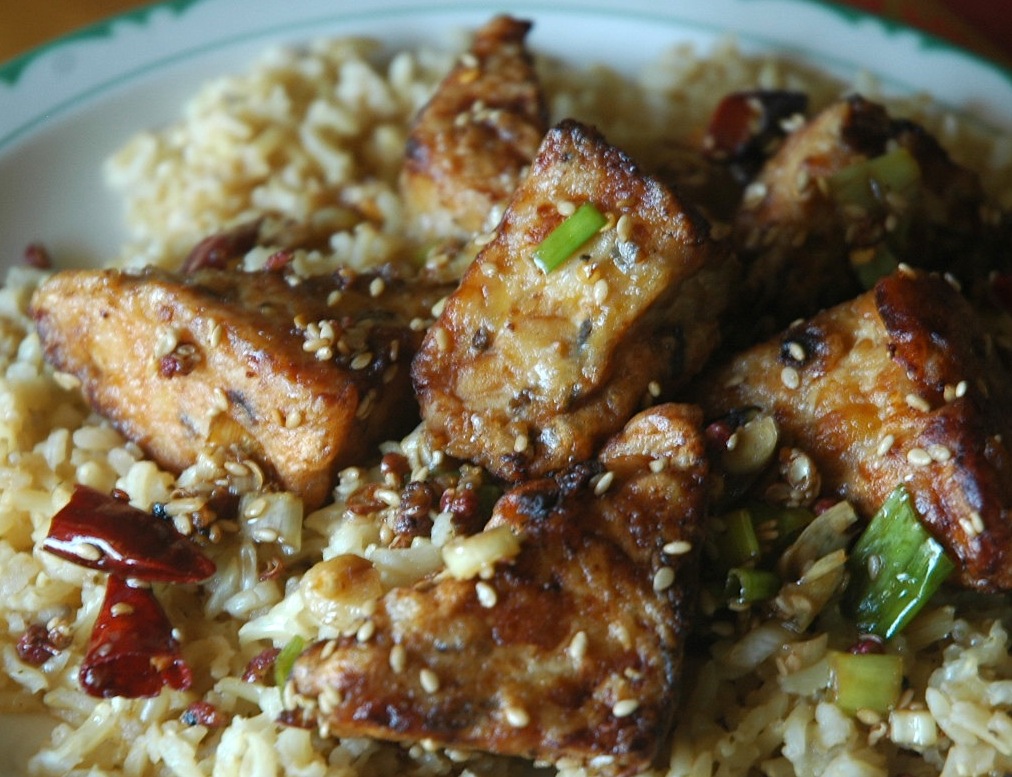 This is a tasty way to serve tempeh. It is a vegetarian high protein dish that is great served on a bed of brown rice.
Serves 4.
Ingredients:
8 oz tempeh
2 Tbsp rice vinegar
2 Tbsp low sodium soy sauce (divided use)
1/4 tsp sea salt
1 egg white
3 Tbsp arrowroot or cornstarch
3 Tbsp vegetable oil
10 dry Japanese chili peppers
1 inch ginger root, sliced
2 garlic cloves, slices
2 green onions, sliced
1 tsp sugar
2 Tbsp roasted sesame seeds
1 tsp crushed Szechwan peppercorns
Directions:
Cut the tempeh into half and then cut each half into 4 triangles.
Marinate the tempeh in a mixture of the rice wine, 1 tablespoon of the soy sauce, and the salt for 30 minutes.
In a small bowl, lightly beat the egg white. Add the arrowroot and mix well. Coat all the marinated tempeh pieces in the arrowroot mixture on all sides.
In a small skillet, heat the oil on a medium setting. Brown the tempeh in the hot oil for a minute on each side. Remove to a holding bowl.
Remove all the oil from the skillet except for one tablespoon. Add the Japanese chili peppers, ginger and garlic and saute briefly.
Add these ingredients to the tempeh, along with the green onions, remaining tablespoon of soy sauce, sugar, sesame seeds and crushed Szechwan peppercorns. Stir well. Serve hot over warm rice.