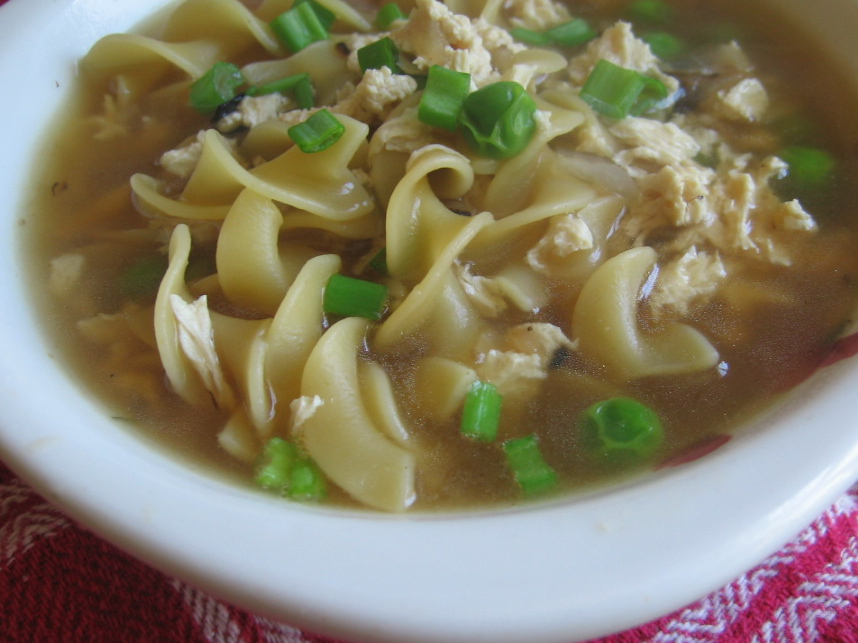 Here is a very easy, very delicious Vegetarian Chicken Noodle Soup using light Gluten Shreds, which are 100% wheat protein. For another version using soy protein click here.
Serves 2-3.
Ingredients:
1/2 Tbsp olive oil
1/2 small onion, chopped
1 small clove garlic, minced
1 Tbsp chicken style vegetarian broth mix
1/2 tsp salt
3 1/2 c hot water
1/4 c frozen peas
3 oz wide egg noodles
1/2 c dry light gluten shreds
Directions:
In a medium saucepan over medium low heat, warm the oil and saute the onion for about 3 minutes. Add garlic and brown it.
Stir in the broth mix, salt, and water. Bring to boil and add peas. Bring back to a simmer.
Add the noodles and stir. Bring to simmer and cook until the noodles are tender. Stir in the gluten shreds and cook one more minute. Serve hot with a sprinkle of sliced green onions.