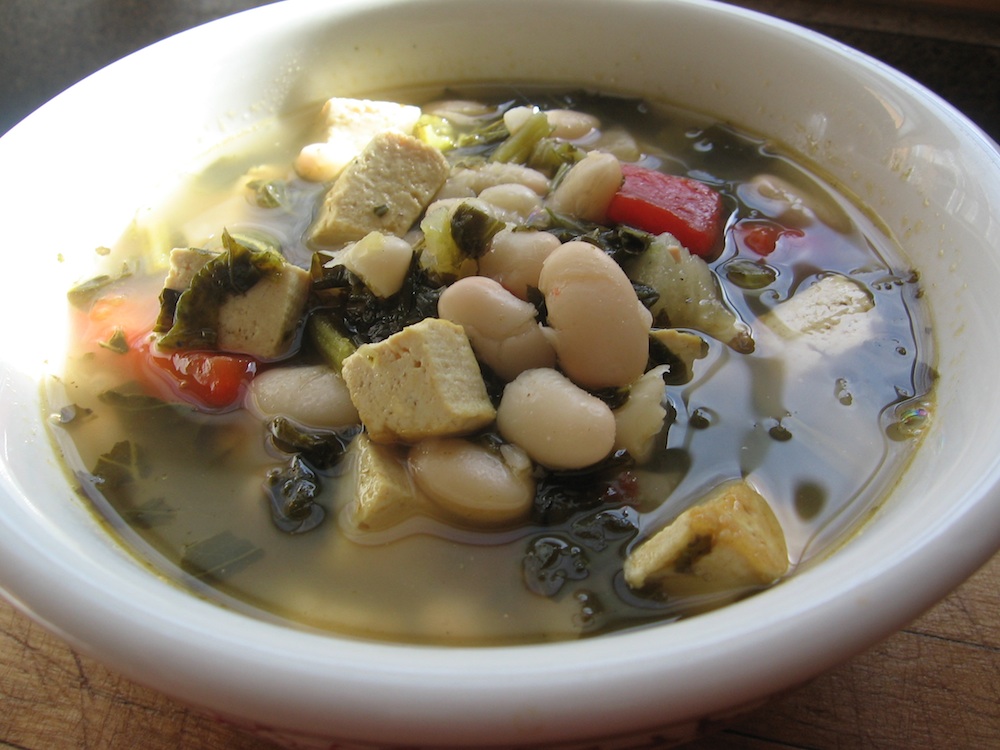 Any extra firm tofu will work well in this soup. We used Nasoya brand tofu. Nasoya produces an extra firm tofu that is already cubed. Best of all it is organic and made with non-genetically modified soy beans. We find that it works nicely in this soup and does not break up easily.
Serves 4-6.
Ingredients:
1 -12 oz block extra firm tofu, drained, blotted and cubed
1 Tbsp canola oil
1 tsp toasted sesame oil
4 cloves garlic, minced
1/2 jalapeno or other green chili, minced
1 tsp grated ginger
1/2 tsp ground Indian bay leaf or garam masala
1 c canned pimientos, chopped, with liquid
1 lb frozen turnip greens with diced turnips
6 c chicken style vegetable broth
2 c Great Northern beans, cooked (or other white beans)
salt as needed
Directions:
Cut dry tofu into 1/2 inch cubes.
Heat large skillet over medium high for a minute or two before adding canola and sesame oil and heating them.
Add the tofu, being careful not to splatter the hot oil.
Brown the tofu for about two minutes, turn with a slotted spatula and brown another two minutes.
Remove from skillet to large pot.
In same skillet saute the garlic and jalapeno until aromatic and beginning to brown.
Add the ginger and bay leaf. Stir 30 seconds.
Add the pimientos with their liquid, turnip greens and salt; cook for 5 minutes, stirring occasionally.
Pour this skillet mixture into the large pot with the tofu and add the chicken style vegetable broth and beans.
Heat and simmer for 5 minutes. Adjust for seasoning.
Serve hot.