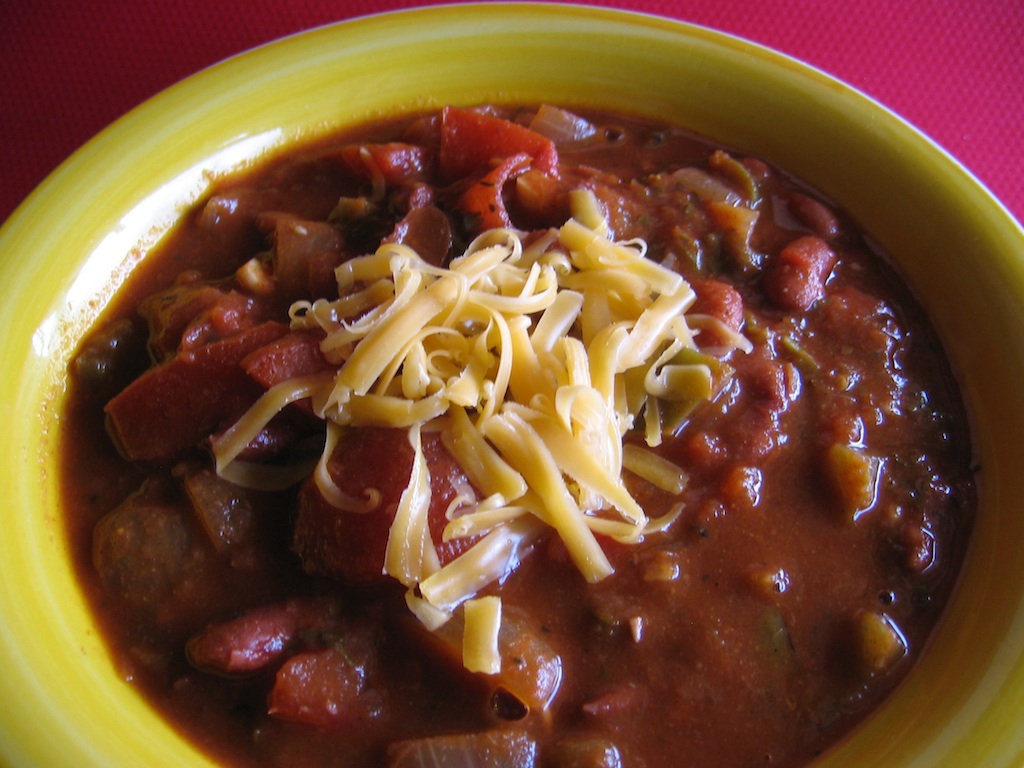 Perfect for a cool Autumn day, this chili may be served vegan style, with sliced green onions and a dollop of vegan sour cream on top, or as a hearty vegetarian dish with shredded cheddar cheese. It also makes a great "Chili Mac". Simply mix cooked macaroni into the chili just before serving.
Serves 6.
Ingredients:
1 Tbsp canola oil or similar
1 large onion, chopped
2 green bell peppers, seeded and chopped
4 cloves garlic, finely chopped
6 ripe medium tomatoes, finely chopped
1-6 oz can tomato paste
4 c water (may use some bean liquid)
2 c kidney beans, freshly cooked or canned
1/2 c fresh parsley, finely chopped
2 Tbsp chili powder
1 tsp oregano
1 tsp cumin powder
2 bay leaves
1/2 tsp kosher salt
1/4 tsp coarse black pepper
Directions:
In a large, heavy pot, heat the canola oil over a medium flame. Saute the onion and bell peppers for 3-4 minutes or until softened. Add the garlic and saute another minute.
Add the tomatoes with their juices, water, kidney beans, parsley, chili powder, oregano, cumin, bay leaves, salt and pepper. Stir well and bring to a simmer.
Stir again, reduce heat to low, and cover. Simmer 30 minutes. Ladle into bowls and serve with a crusty loaf of bread or a pan of corn bread.