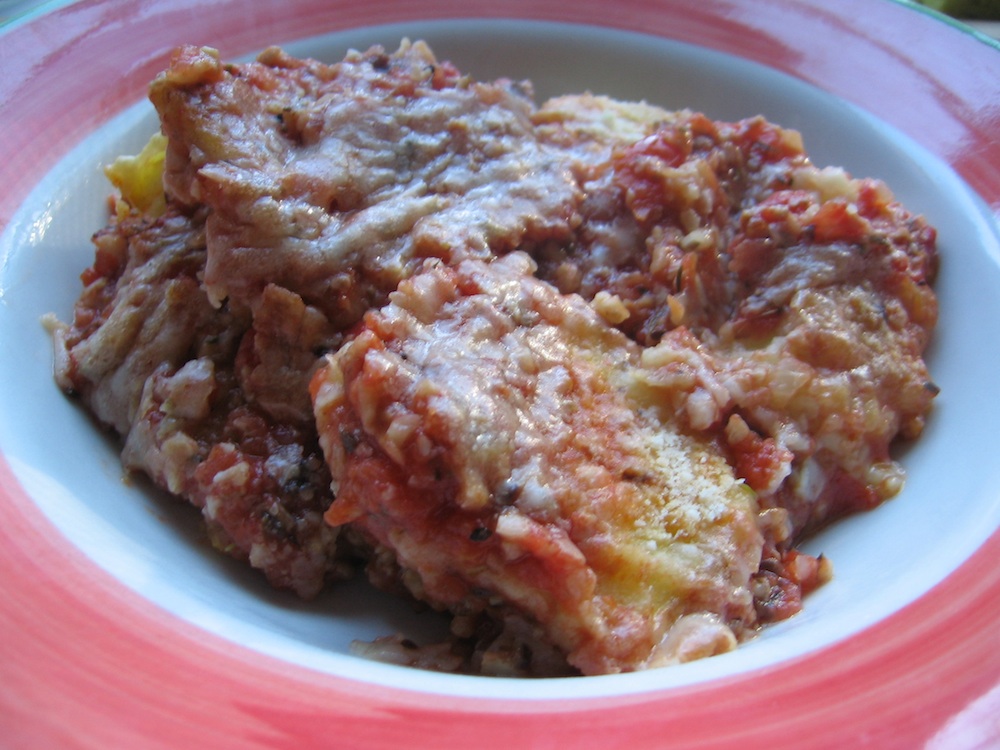 Because the yellow squash is seeded, dredged in flour and lightly browned before baking, this dish has a nice meaty texture and full flavor.
Serves 4.
Ingredients:
Yellow Squash:
1 large yellow crookneck squash (summer squash)
1 c all purpose flour
1/2 tsp salt
1/4 tsp black pepper
1 egg
2 Tbsp water
4 Tbsp grapeseed oil or other cooking oil
Tomato Mushroom Sauce:
2 Tbsp grapeseed or olive oil
1/3 c onion, minced
1-6 oz can mushrooms, cut or sliced (drained reserving liquid)
1/2 tsp granulated garlic
1/2 tsp savory
1/2 tsp thyme
1/4 tsp salt
1/8 tsp pepper
2 c canned diced tomatoes
2 Tbsp Parmesan cheese, grated (topping)
Directions:
Yellow Squash:
Cut the squash in half lengthwise and remove the seeds with a spoon.
Cut each half in half again lengthwise and then cut each piece in 4-5 chunks.
In a shallow bowl, blend the flour, salt and pepper. In another shallow bowl, beat the egg with the water.
Dip each piece of squash in the egg mixture and then coat it with the flour mixture.
Heat the oil in a large skillet over medium low.
Add half of the squash and allow to brown lightly on each side. This takes several minutes.
Transfer them to a holding dish and continue with the other half of the squash in the same manner.
Tomato Mushroom Sauce:
In a medium saucepan, heat the oil and saute the onion for a few minutes.
Add the drained mushrooms and saute a few more minutes.
Add the mushroom liquid, garlic, savory, thyme, salt and pepper and saute 2 minutes.
Transfer this mixture to a food processor and pulse a few times.
Add the tomatoes to the processor and pulse again until the sauce is uniformly pureed, though not entirely smooth.
Assembly:
Preheat the oven to 350 degrees F.
In an 11 x 7 x 2 inch baking dish, pour half of the sauce.
Add a layer of all of the yellow squash.
Cover with the remaining sauce and sprinkle with the Parmesan cheese.
Bake 30 minutes.