Here is a vegetarian copycat recipe for the flavorful, light sauce served in Swiss Chalet restaurants. Serve on French Fried potatoes, in Canadian Poutine, or over any vegetarian burger or loaf.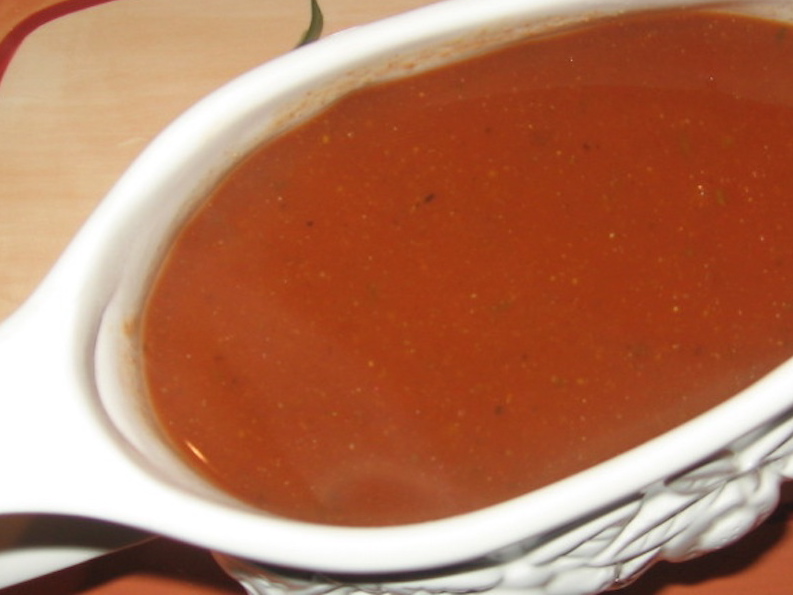 Makes about 3 cups.
Ingredients:
2 c water
2 Tbsp ketchup
1 Tbsp chicken style broth mix (such as Chik'Nish)
2 tsp molasses
1 1/2 tsp paprika
1 tsp poultry seasoning
1/4 tsp ground ginger
1/4 tsp dried mustard
1/4 tsp onion powder
1/4 tsp granulated garlic
1/4 tsp salt
1 tsp vegetarian Worcestershire sauce
1/4 tsp ground red pepper
1 tbsp cornstarch
Directions:
In a medium saucepan over medium low heat, pour water and ketchup.
Add broth mix, molasses, paprika, poultry seasoning, ginger, mustard, onion powder, granulated garlic, salt, Worcestershire sauce, and ground red pepper.
Stir with a whisk until boiling.
Reduce heat and simmer 5 minutes.
Mix cornstarch with 1 tbsp water; whisk into sauce.
Cook, whisking constantly until sauce thickens.
Serve hot.