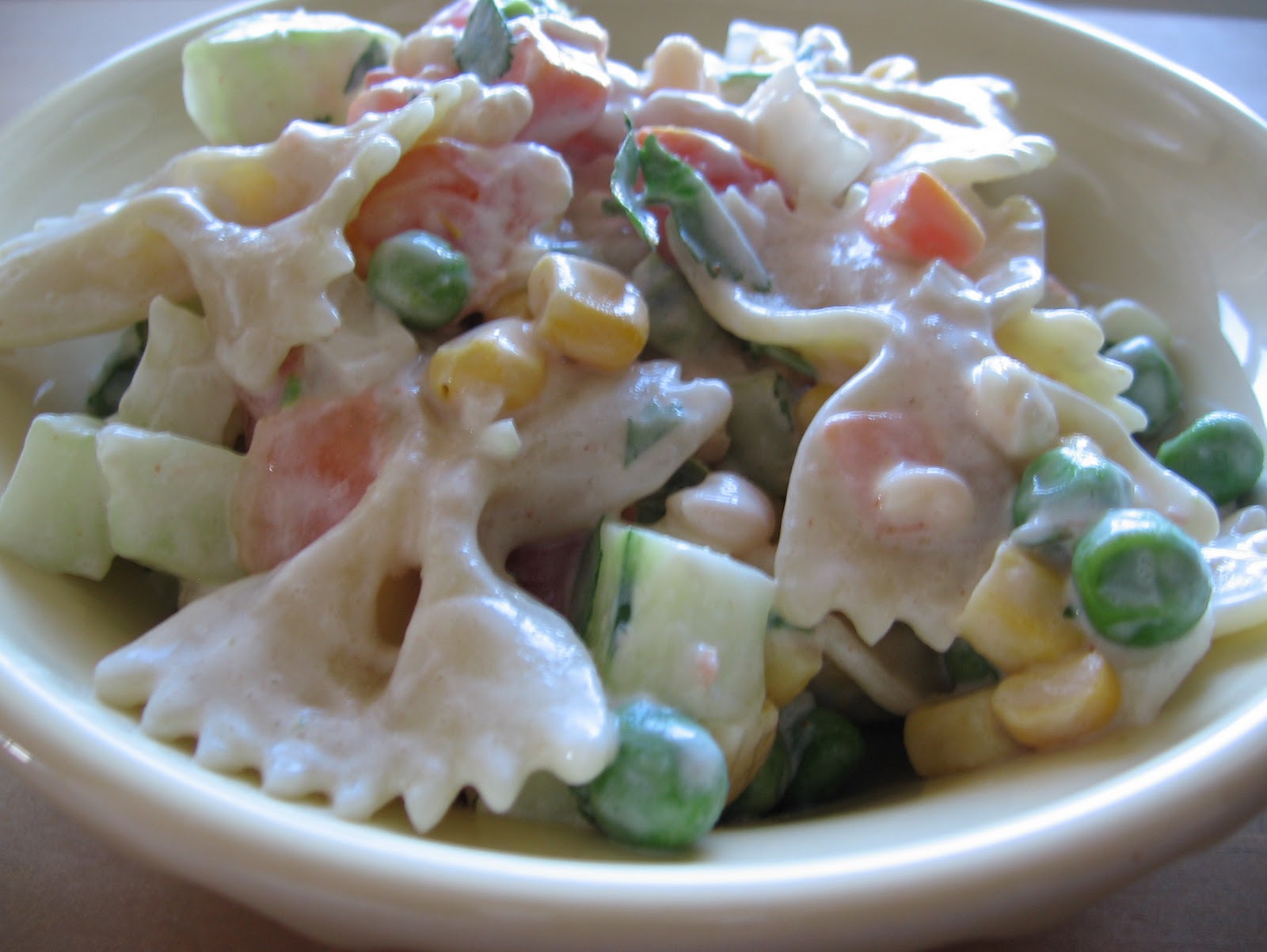 We made this salad with all three jalapeno peppers, and it was "knock-your-socks-off spicy"! That's the way we like it, but you may wish to reduce the level of heat, or leave the peppers out altogether. At any level of heat, this is a great side salad for a Mexican meal, or served with a crusty bread, it is a meal in itself.
Serves 6-8.
Ingredients:
Salad:
1-3 jalapeno peppers (optional)
6 oz farfalle pasta (bowtie pasta)
1 c frozen peas and diced carrots
1 1/2 c cooked beans (pintos, navy beans, Great Northerns, etc.)
1 cucumber, peeled and seeded
3 Roma tomatoes, seeded
1-15 oz can corn, drained
1/4 c onion, finely chopped
1/4 c cilantro, minced
1 clove garlic, minced
Dressing:
Directions:
Roast jalapenos in a 400 degree F. oven for about 10-15 minutes, turning once.
Remove and cool briefly.
Remove stems and seeds and mince the peppers.
Heat a pot of salted water to boiling and drop in the farfalle.
Bring back to a boil, and simmer 8-9 minutes, or until nearly tender.
Add the frozen peas and carrots.
Bring back to the boil and cook one minute.
Drain all and place in a large bowl to cool briefly.
Add the beans.
Finely chop the cucumber and tomatoes and add to the bowl.
Add the jalapenos, corn, onion, cilantro and garlic.
In a small bowl, mix the dressing ingredients until smooth.
Pour this dressing over the salad and toss.
Cover and refrigerate for at least four hours before serving.