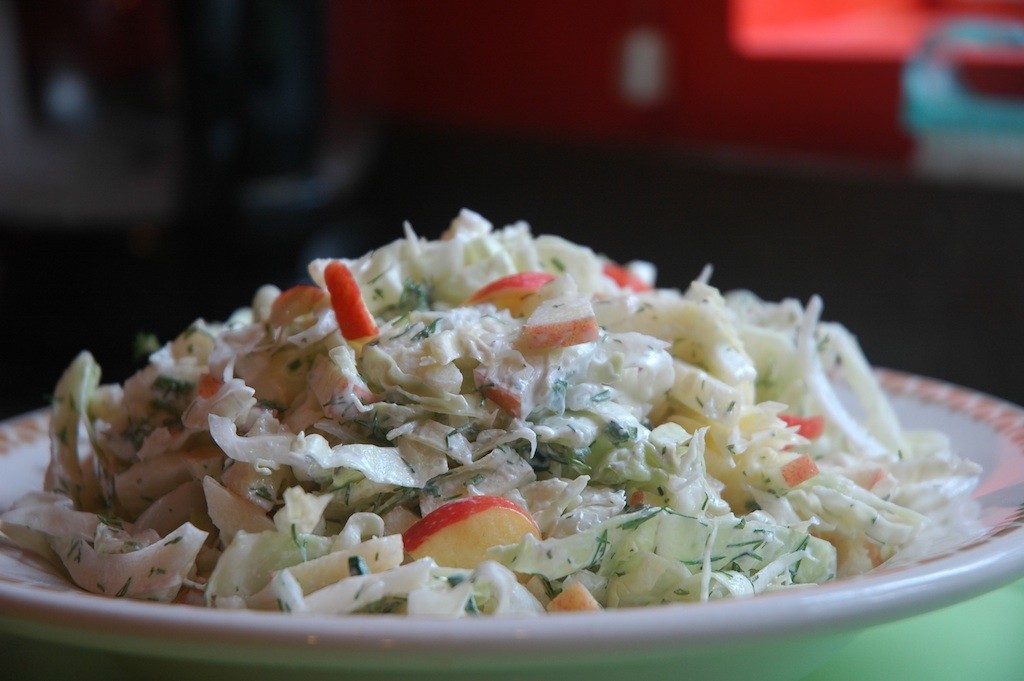 This refreshing slaw has just a hint of sweetness from the apples. It will stay crisp and delicious in your refrigerator for up to 3 days. Makes about 1 quart.
Ingredients:
1/2 medium head cabbage
1 medium eating apple
1/4 c finely sliced onion
1 green chili, thinly sliced (optional)
1/4 c minced fresh dill weed
1/4 c sour cream
1 Tbsp salad oil
1 Tbsp lemon juice
1 tsp sugar
1/2 tsp salt (or to taste)
1/4 tsp black pepper
Directions:
Slice the cabbage into very fine shreds. Leave the peel on the apple, core it, and cut into a fine dice.
Place the cabbage, apple, onion, and chili pepper in a large bowl.
In a small bowl, blend together the sour cream, salad oil, lemon juice, sugar, salt and pepper. Add this creamy dressing to the cabbage mixture and toss until everything is evenly coated.
Cover tightly and refrigerate for at least 4 hours before serving. Serve chilled.