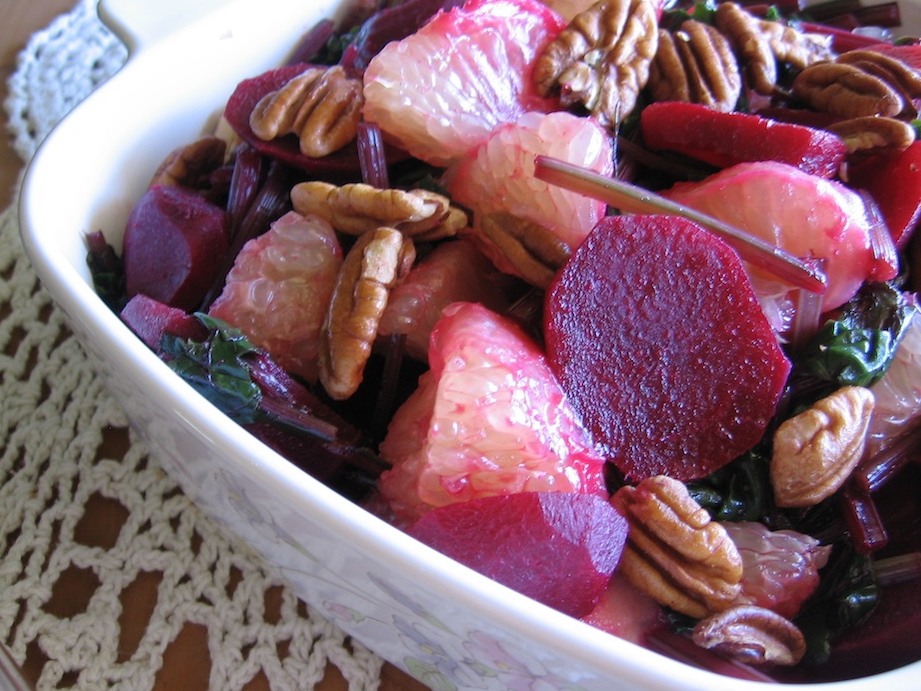 Steam the beets in a matter of minutes and toss with grapefruit and honey dressing. Sprinkle with nuts for a refreshing and tangy luncheon or dinner salad.
Serves 4.
Ingredients:
1 Tbsp honey
1 tsp olive oil
1 tsp apple cider vinegar
1 tsp grapefruit zest, grated
1/4 tsp onion powder
1/4 tsp garlic powder
1/4 tsp salt
1/8 tsp black pepper
4-6 beets with tops
1 large grapefruit
2-4 Tbsp pecans or other nuts (optional)
Directions:
In a small bowl, whisk together the honey, olive oil, vinegar, grapefruit zest, onion powder, garlic powder, salt and pepper. Set this dressing aside.
Peel the beet roots and slice them about 1/3 inch thick. Keep the beet greens separate, cutting them into 1 inch lengths. Heat water in a steamer until boiling. Add the beet root slices, cover, and steam 8 minutes. Add the beet greens and steam another 4 minutes. Carefully remove all from the steamer. (Beets will be very hot and can create stains.) Place beet slices and greens in a large bowl and allow to cool at least 20 minutes.
With a paring knife, peel the grapefruit and remove the sections between the membranes. Cut in bite-sized pieces and add to the bowl of beets. Pour the dressing over the salad and toss gently. Serve immediately or refrigerate in a tightly sealed dish for service within the next few days. Sprinkle with nuts if desired immediately before serving.