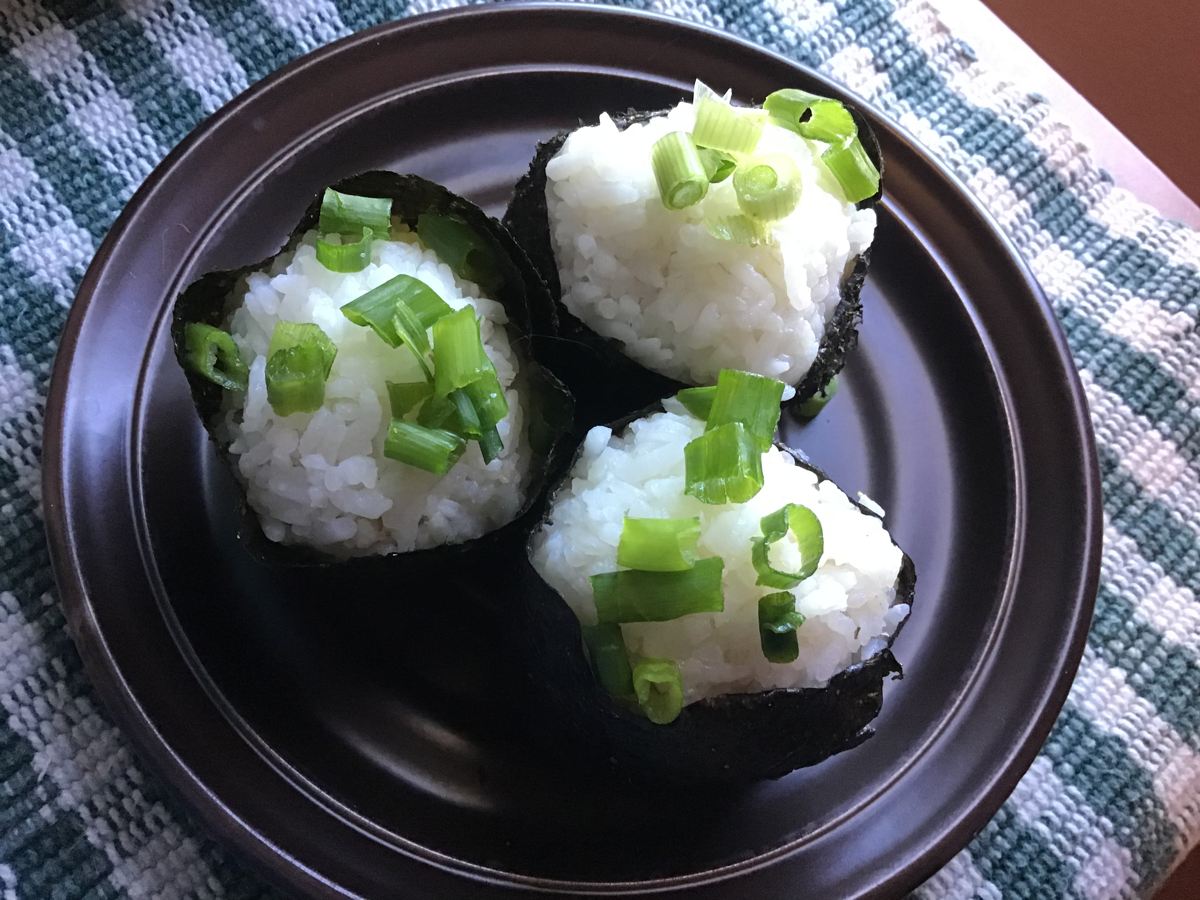 This is a Americanized recipe "hack" for those of us who may not have sticky rice on hand. I use leftover cooked, long grain white rice in making these Japanese style rice balls. I stuff them with a tasty almond filling.
Makes 6 large rice balls. Serves 2.
Ingredients:
3 half-sheets Nori (toasted seaweed)
1 c almond meal
2 Tbsp mayonnaise
2 tsp tamari soy sauce
3 c cooked long grain white rice, cold
1 Tbsp corn starch
2 Tbsp water
1/8-1/4 tsp salt (approx.)
2 green onions, sliced
Directions:
Using kitchen shears, cut the half-sheets of Nori in half lengthwise, forming 6 long strips. Set aside.
In a small bowl, mix the almond meal with the mayonnaise and soy sauce until well-blended. Set aside.
In a medium bowl, place the cooked rice.
In a cup, whisk together the corn starch and water. Add this slurry to the rice and blend well.
Place the rice in a steamer until hot. (If you do not have a steamer, place the rice in a metal strainer basket over a pot containing an inch or two of boiling water. Cover and steam 5 minutes, or until hot.)
Cool the rice 10 minutes, or until cool enough to handle.
Dampen your hands and rub a pinch of salt on them. Take a quarter-cup rice mixture in the palm of your hand; flatten it slightly.
Add a tablespoon of the almond mixture to the flattened rice, then another quarter-cup rice mixture. Form this into a round ball
Roll a strip of Nori around the center of the rice ball; place it on a tray or dish and sprinkle with green onions.
Repeat this process until all 6 rice balls are made. Serve warm with Japanese pickled vegetables.