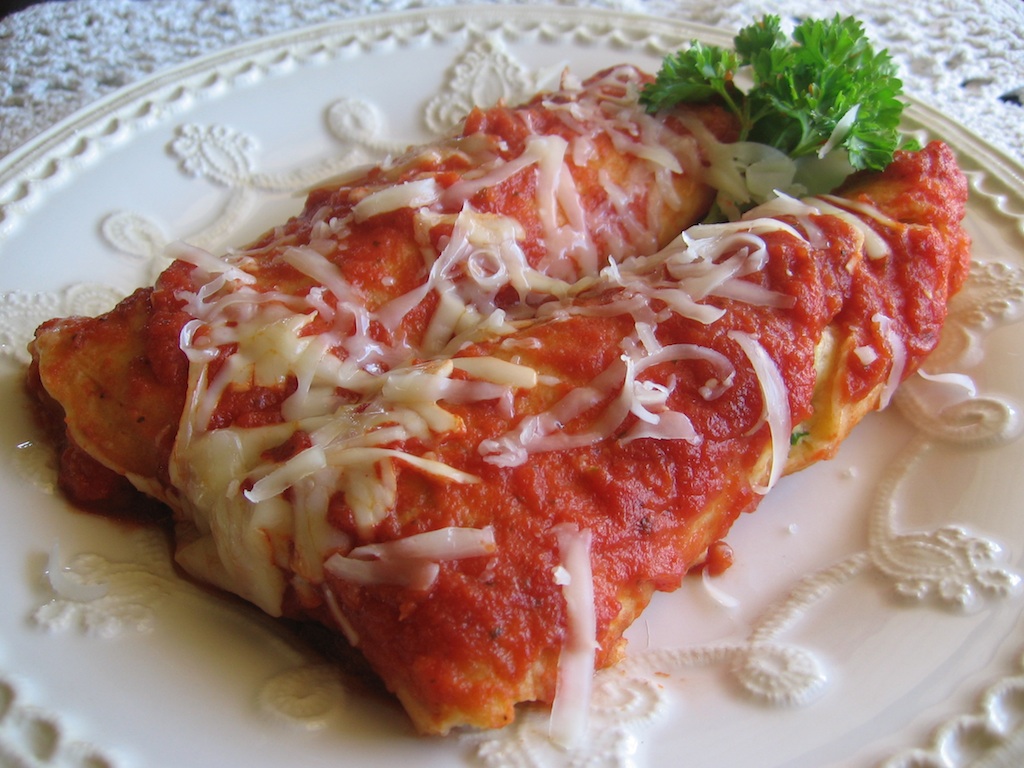 This is a recipe that is easier than it looks, and makes for a special vegetarian entree. Rather than pasta shells, crepes are used here and they are filled with a mixture of ricotta, capers and sun-dried tomatoes.
Ingredients:
Filling:
4 eggs, lightly beaten
15 oz carton of ricotta
1/2 c mozzarella cheese, shredded
1/4 c Parmesan cheese, grated
1/4 c Italian style dry bread crumbs
1/4 c fresh parsley, minced
2 Tbsp capers, rinsed and minced
2 Tbsp sun-dried tomatoes, minced
2 cloves garlic, grated
1/4 tsp sea salt
1/4 tsp black pepper
Crepes:
4 eggs
pinch salt
1 tsp olive oil
1 c milk
1 1/3 c all purpose flour
Additional Ingredients:
3/4 c mozzarella cheese, grated
2 1/2 c spaghetti sauce (homemade or store-bought)
olive oil for frying crepes
Directions:
Filling: In a large bowl, lightly beat the eggs using a whisk. Add the remaining filling ingredients and blend well. Set aside.
Crepes: In a large bowl, lightly beat the eggs using a whisk. Add the salt and olive oil. Alternately add the milk and flour until you have a smooth runny batter. Add extra flour or milk by tablespoons as needed to get the consistency of thin pancake batter.
In a large crepe pan or skillet over medium low, heat a few drops of olive oil. Add about 1/3 cup of batter and rock the pan gently to spread the batter into a 6-8 inch disk shape. (This can also be done by using the back of a spoon in a circular manner to spread the batter out.) Cook a couple of minutes on one side only.
Transfer to a holding plate and repeat with the remaining batter. You should have 10-12 crepes.
Assembly: Preheat the oven to 350 degrees F and oil a 13 x 9 x 2 inch baking dish with olive oil. Ladle some sauce over the bottom of the oiled baking dish and spread evenly.
Fill each crepe generously with ricotta filling and roll to close. Place seam-side down in the pan. When all the manicotti are in the dish, pour the remaining sauce evenly over them and sprinkle with mozzarella cheese.
Bake 35-40 minutes, or until piping hot. Serve 2 manicotti per person with a side salad.