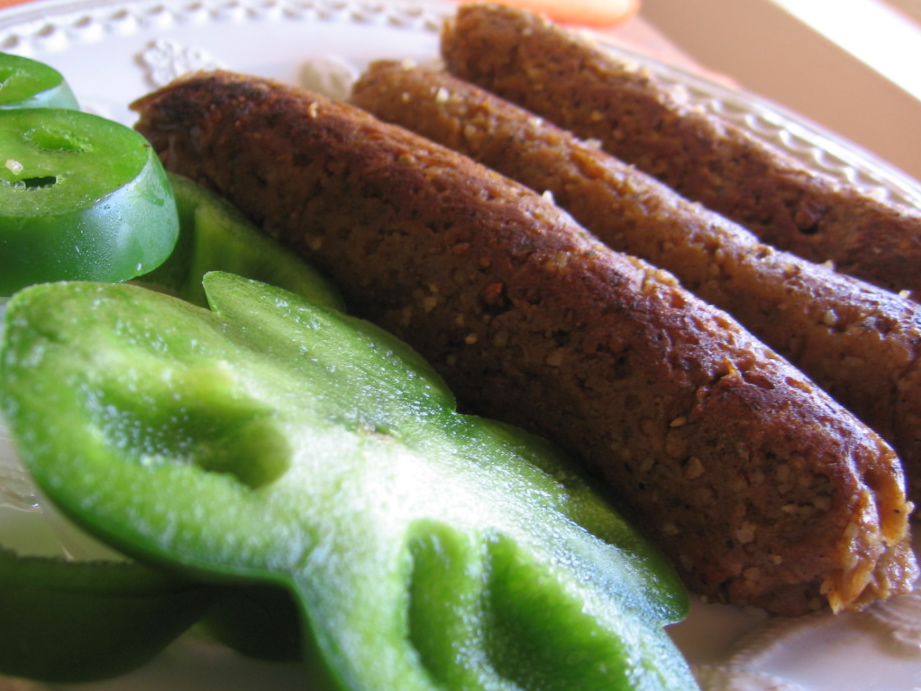 This vegan recipe is easy to assemble and produces an inexpensive sausage that can be used in casseroles, grilled sandwiches and soups. These Polish kielbasas are seasoned with the traditional blend of spices, and can be made in quantity, wrapped carefully, and frozen for up to a year.
Makes 8 medium sausages.
Ingredients:
1/4 c corn grits, cooked (about 1 c cooked grits)
1 c cold vegetable broth
1 tsp pickling salt (or kosher salt)
1 Tbsp canola oil
1 1/4 c vital wheat gluten or high protein gluten flour
2 tsp raw sugar
2 tsp paprika
1 tsp granulated garlic
1 tsp black pepper
1/2 tsp dry marjoram
1/2 tsp celery seeds
1/2 tsp dry thyme
1/2 tsp coriander seed
1/4 tsp nutmeg
Directions:
In a medium bowl or pot, mix the grits, broth, pickling salt and canola oil until well blended.
In a large bowl, blend the vital wheat gluten, raw sugar, paprika, garlic, pepper, marjoram, celery seeds, thyme, coriander seeds and nutmeg.
Add the grits mixture to the dry ingredients and stir until well incorporated.
Heat water in a large steamer until boiling. Cut 8 sheets of parchment paper or foil of about 12″ x 6″ each.
Divide the dough into 8 equal portions and place one in the center of each sheet. Form 6″ sausage shapes lengthwise on each. Roll tightly and twist the ends.
Steam 40 minutes, checking occasionally to be sure the steamer does not run dry. Cool and add to recipes or brown in butter or oil.