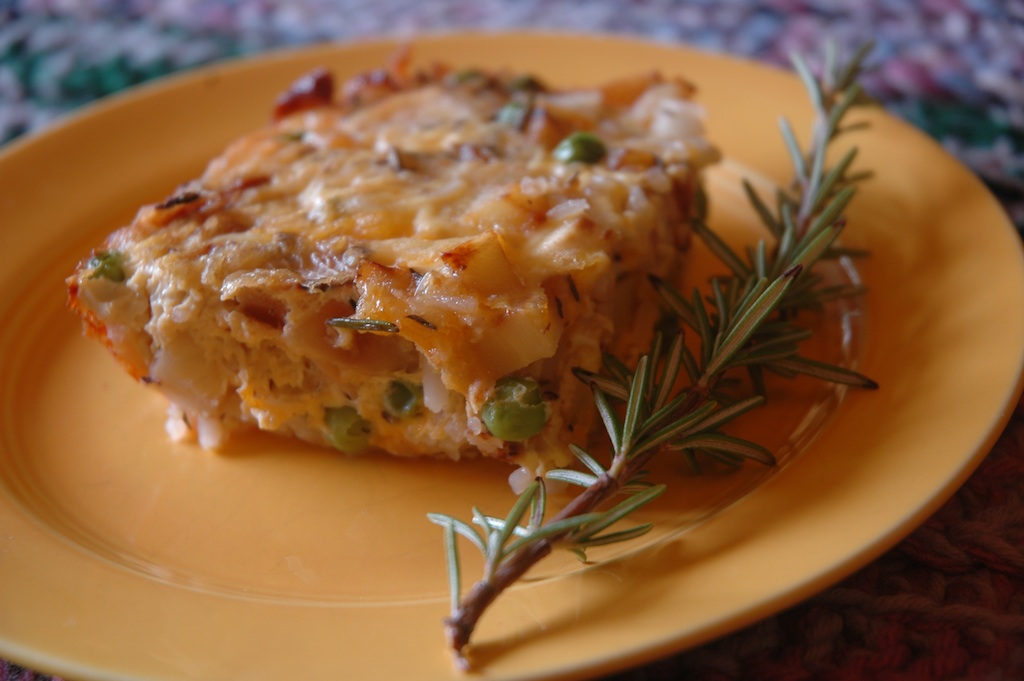 This light dish has a custard base. The peas, onions and parsnips are flavored with rosemary and savory, making this a tasty vegetarian dish.
Serve 6.
Ingredients:
16 oz parsnips
2 Tbsp olive oil
1 medium onion, chopped
2 cloves garlic, minced
1 jalapeno chili pepper, seeded, minced
1 1/2 tsp minced rosemary
1/2 tsp dry savory
4 eggs
1 1/2 c milk
1 c shredded cheddar cheese
1/2 tsp coarse salt
1 c cooked rice
1 c frozen peas
Directions:
Preheat the oven to 350 degrees F. Butter an 11 x 7 x 2 inch baking dish.
Peel and slice the parsnips 1/3 inch thick. Cut the larger slices in halves or quarters.
In a large skillet on a medium low setting, heat the olive oil. Saute the parsnips and onion in the oil for 5 minutes, or until beginning to brown.
Add garlic and jalapeno pepper; saute another minute.
Remove from heat, add rosemary and savory, stir, and set aside to cool a bit.
In a large bowl, beat the eggs lightly. Add the milk, shredded cheese, and salt; beat lightly again.
Add the rice, peas and skillet mixture to the egg/milk mixture; blend well. Pour into the prepared baking dish.
Bake for 45 minutes, or until set up and rich golden color. Cool 5 minutes before cutting into squares and serving hot.