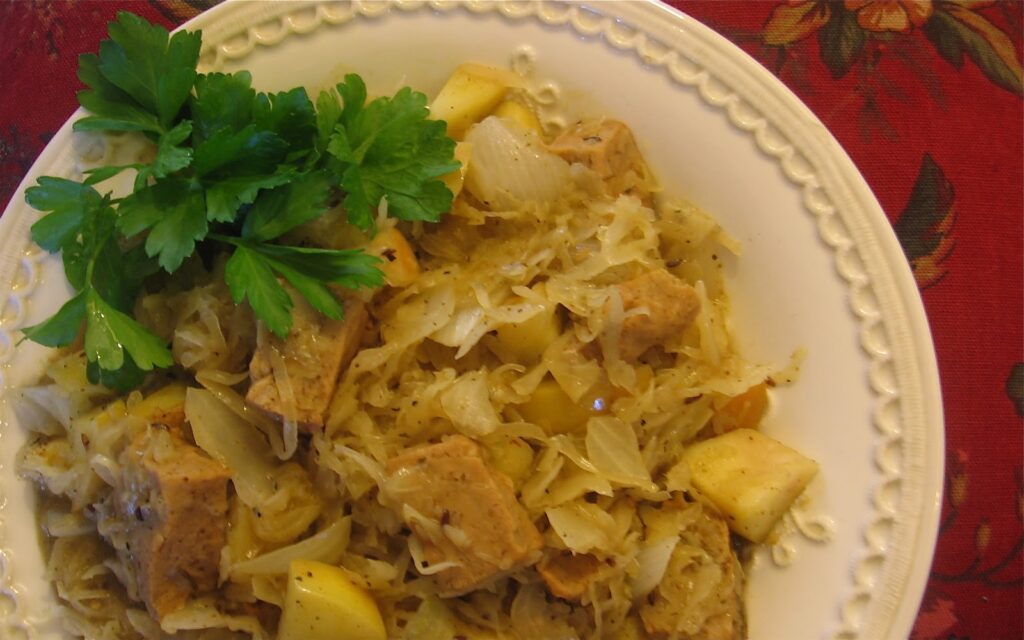 The sauerkraut is so well seasoned and balanced here with sweet and savory flavorings, your family will love this dish, especially with parsley potatoes on the side. Terkettes work very well here, but homemade seitan would be equally good.
Serves 4-6.
Ingredients:
2 Tbsp margarine or butter
1 c white onion, coarsely chopped
10 oz Terkettes with broth (or use Seitan)
1 Gala apple, unpeeled and coarsely chopped
1 tsp caraway seeds
1 tsp ground Indian bay leaf or 1/2 tsp cinnamon
1/8 tsp black pepper, coarsely ground
1-14 oz can sauerkraut
1 c vegetable broth
1 tsp all purpose flour
2 Tbsp brown sugar
Directions:
In a large skillet, melt the margarine over medium low heat.
Saute the onion for about two minutes.
Cut any large pieces of Terkettes in half; add all of the Terkettes and their broth to the skillet and continue to saute another two minutes.
Add the apple and saute until the apple is heated through and beginning to soften.
Stir in the caraway seed, Indian bay leaf, and pepper and stir until aromatic.
Rinse the sauerkraut briefly and drain it well. Add the sauerkraut to the skillet, and continue to saute until everything is hot and well-blended.
Pour the vegetable broth into a small bowl and whisk in the flour and brown sugar until completely dissolved.
Add this mixture to the skillet and stir until the sauce is no longer runny, but has thickened and lightly coated everything. Serve hot.