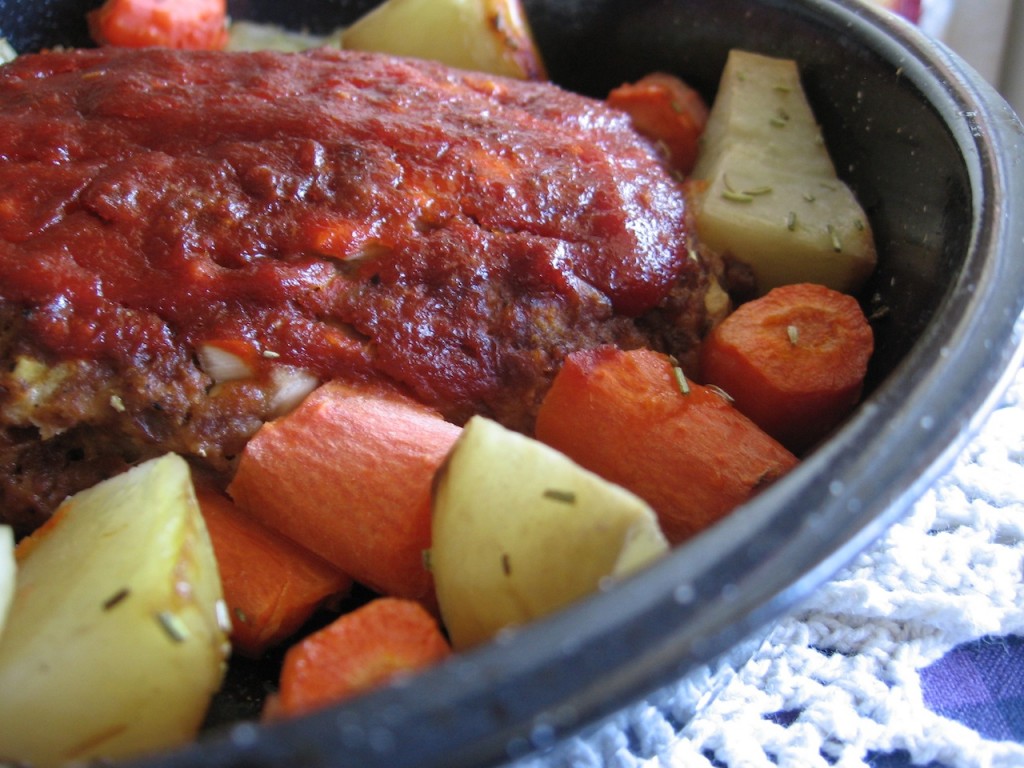 The Vibrant Life Vegeburger has a wonderful flavor, and it is enhanced further with these spices and sauce. Be sure to peel and cut some bite-sized potato, carrot, yam, onion and/or parsnip to roast alongside this 'meatloaf'.
Serves 6.
Ingredients:
Loaf:
2 c Vibrant Life Vegeburger or similar
2 Tbsp olive oil
2 eggs, lightly beaten
1/4 c dry breadcrumbs
1/4 c onion, minced
1 clove garlic, minced
2 Tbsp ketchup
1 Tbsp horseradish
1 Tbsp molasses
1 tsp vegetarian Worcestershire sauce
1/2 tsp kosher salt
1/4 tsp black pepper
1/2 tsp dry mustard powder
Horseradish Sauce:
1/4 c ketchup
1 Tbsp molasses
1 Tbsp horseradish
1 tsp prepared mustard
1/4 tsp dry mustard powder
Directions:
Preheat oven to 375 degrees F and oil an 11 x 7 x 2 inch baking dish.
Mix all the loaf ingredients and form into loaf shape in the center of the prepared baking pan. (If desired, place bite-sized cut root vegetables around the loaf and lightly drizzle them with olive oil. Sprinkle with salt, pepper and rosemary. Turn midway through the cooking time.)
In a small bowl, mix together the sauce ingredients; spoon half of the sauce over loaf.
Bake loaf for 50 minutes. Spoon remaining sauce over loaf and bake 20 more minutes. Allow to stand 10 minutes before slicing and serving.